How to use QuickNotes on iPad and Mac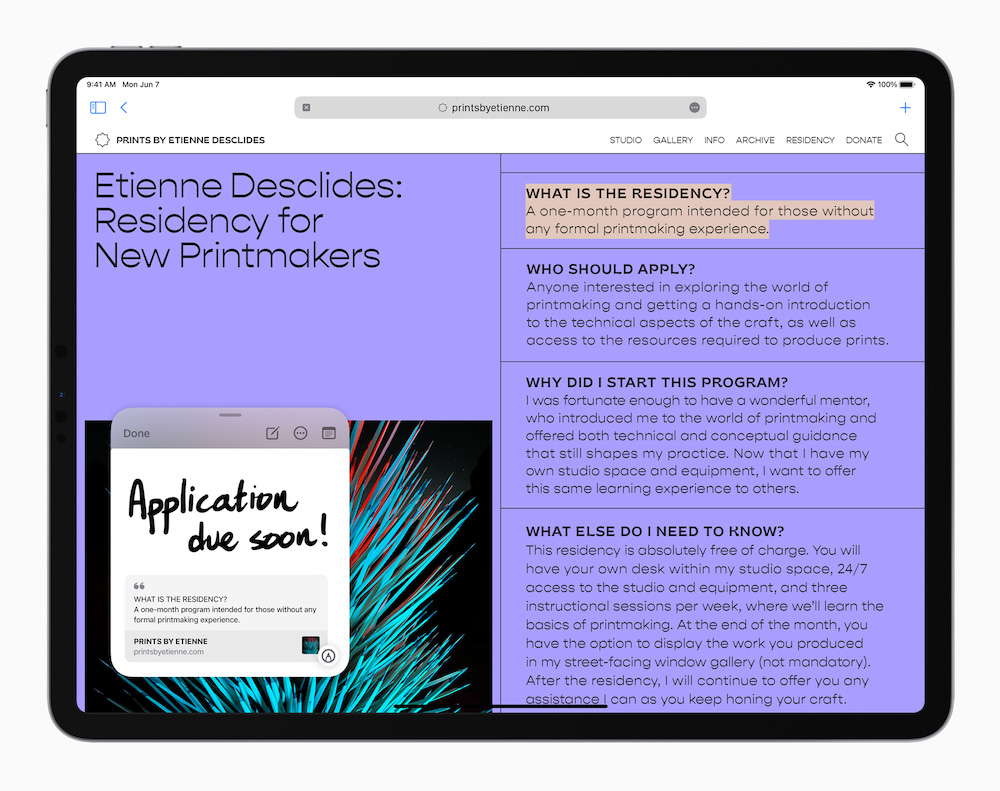 Coming soon on iPad OS 15 and macOS Monterey, QuickNotes is a new tool that will let you swiftly scribble a Note from withing any application such as Safari.
Why this is good?
The feature is expected to come in useful to anyone working away in an app who wants to take a note without interrupting their workflow.
Notes can include links, addresses, map references and more. The idea behind this is that by taking note of what you want, where you want, you can remain focused on what you are attempting to do. Changes made on one device will sync across all your devices using the same iCloud account.
What is a QuickNote?
A QuickNote is basically just a Note, but one you get to from within an applucatio by usiung a keyboard shortcut, Control Center or hot corner. You can also add links to a QuickNote in some apps, and the notes are resizable and available anywhere, even in Split View.
One more cool feature: If you are making notes while on a specific website the QuickNote will appear as a thumbnail whenever you open that website, enabling you to continue your research, at least until you get rid of the note.
3 ways to open a QuickNote on iPads
iPad users activate a QuickNote by swiping in from the bottom right corner of the iPad with an Apple Pencil, which summons the note as a floating window that can be moved around the screen, resized or pushed off-screen as required.
You can also activate QuickNotes in Control Center (Settings>Control Center), where you should ensure the Access within Apps toggle is enabled and then add QuickNote to your collection of active Control Center tools. Once you do this you can launch a new QuickNote from the Control Center without Apple Pencil.
And if you are using an external Bluetooth keyboard you can open a new QuickNote by pressing the globe key and Q.
You can type the note using the keyboard or scribble them with Apple Pencil.
How to open a QuickNote on a Mac
You can open QuickNotes using Hot Corners on your Mac. Open System Preferences>Mission Controland tap Hot Corners. Choose a corner and select Quick Note as the action you want to invoke. Now the QuickNote will appear when you move your cursor to that corner.
You can also activate QuickNotes in Control Center (System Preferences>Dock & Menu Bar) where you should add QuickNote to your active Control Center tools.
You can also press Fn+Q to launch a QuickNote.
Where are QuickNotes kept?
You will find your QuickNotes in an all-new QuickNotes section in Notes. Safari will present these notes on web pages on which they were created. You can share them instantly, too.
A wave of new Notes features
QuickNotes is one of a raft of improvements in Notes. New features aim to help us stay organized, collaborate, and create notes from anywhere. You can add mentions, see everyone's edits in the new Activity View, and categorize Notes with tags to help locate them in the new Tag Browser and in tag-based Smart Folders.
Please follow me on Twitter, or join me in the AppleHolic's bar & grill and Apple Discussions groups on MeWe.
Dear reader, this is just to let you know that as an Amazon Associate I earn from qualifying purchases.