iOS 11: How to Setup and use Apple Music's new Social Tools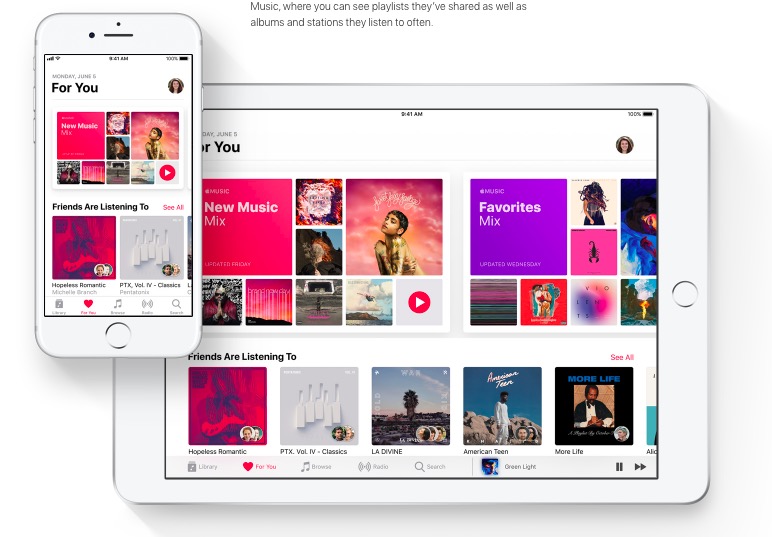 Apple will introduce new social music sharing and discovery features within Apple Music and iOS 11. What are they and how do you set them up?
What are these new features?
Apple puts it like this: "Now your friends can help you discover new songs and artists. Each of you can have your own profile on Apple Music, where you can see playlists they've shared as well as albums and stations they listen to often."
You can set up an identity, find and connect with friends selected from among your Contacts and Facebook feeds, create and follow verified accounts and you can also control who follows you and what playlists/albums you choose to share.
The limitation is that you must have an Apple Music subscription to access these features.
---
How to set the system up
Part one
Set-up is simple. Open the For You section in Apple Music app on your iPhone.
Tap the account icon at the top right of the display.
You'll be asked to add a profile photo and to create a profile other people can use if they want to find you.
This is a straightforward process, once you've given yourself a: photo, name and a user name you like, Tap Next.
---
Part two
Now you get to choose who can follow you.
You can choose to make yourself open to Everyone, which I don't recommend.
Or choose to only share your playlists and music with People You Choose — that means only those whose follow requests you approve of will be permitted to follow you and see your 'stuff'.
You can change these settings at any time just by tapping your account icon in the For You section of Apple Music
When you do you can access and change every element of your account.
---
Part three
The next section lets you review friends who are already using the software.
You won't find many — as the software is in beta.
The application tells you "We found some of your contacts on Apple Music" and lets you select all or some of these from a list.
You can also tap the Find More Friends button to choose chums from your social media feeds.
Once you have selected a few mates, you can set your notification preferences so you don't get told every time friends with excellent musical taste play a Psychic TV or Baaba Maal album.
You can also ask to be informed when new releases, mixes or shows you may like are made available through Apple Music.
Apple warns that it associates your "notifications, viewing and interaction data with your Apple ID". That's not such a bad thing as it also means the AI in Apple Music should get better at figuring out what you most like.
---
Part four
Once you have the system set up and you begin following a few friends you will see a new section appear in the 'For You' feed.
This new section will let you see and listen to what your friends are listening too (assuming they are sharing it).
You can use this to explore and create cool new playlists, discover new music, or just to take a delight in your chum's predilection for Vanilla Ice.
In return, friends can also see what you are listening to and explore those beautifully-crafted playlists you choose to share: 'Sunday hangover', 'In the Kitchen', 'Arthritic workout', or whatever you've made.
You can also add their music and playlists to your own Apple Music collection
This is a much nicer integration than we saw with Apple's failed 'Ping' music social network. Partly it is because it elegantly inserts a way to explore other people's collections in a way that does not interfere with your own experience, but it is also good because if no one uses it it won't actually damage the existing experience.
---
Dear reader, this is just to let you know that as an Amazon Associate I earn from qualifying purchases.