How to use iPadOS 14's awesome new Apple Pencil Scribble tool (u)
Apple's continued quest to invent a the ultimately adaptable computer continues with the introduction of Scribble for iPad, which makes the world's best tablet even better.
What is Scribble on iPad?
Introduced at WWDC 2020 with iPadOS 14, Scribble lets iPad owners use an Apple Pencil to write in any text box.
These handwritten notes can then be automatically converted to typed text on iPad, which makes your tablet usable in a whole bunch of new situations.
Apple points out that handwriting and conversion to text happens on your device, keeping it private and secure.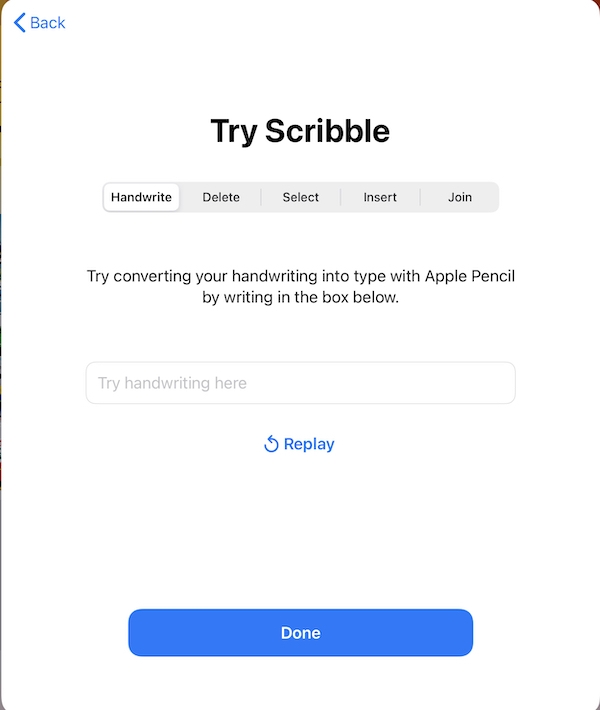 How do you use Scribble?
In apps that support it (which is most of them), you just need to press your Pencil against the screen and begin to write.
During a WWDC presentation, engineers opened up Maps and simply (desperately?) wrote "Coffee" in the search field. Scribble translated this into text and found the local coffee shops for them.
The text is inserted in response to where the Pencil is placed. It is also able to determine the difference between when a user pauses between words or when they finish.
https://www.apple.com/newsroom/images/product/os/ipados/standard/Apple_ipados14_handwriting_06222020_inline.gif.large.gif
What happens when you use Scribble?
When using Scribble you'll see the revamped Apple Pencil toolbar appear at the bottom of your screen.
This offers all the tools you're used to using and adds buttons to open the keyboard, open Settings and to hit Return while in a text document. Scribble seems delightfully fast to use, even with messy handwriting.
In some apps (including Notes) you may need to tell your iPad you are in Scribble mode. To do so just tap the pencil icon marked with an A, as illustrated.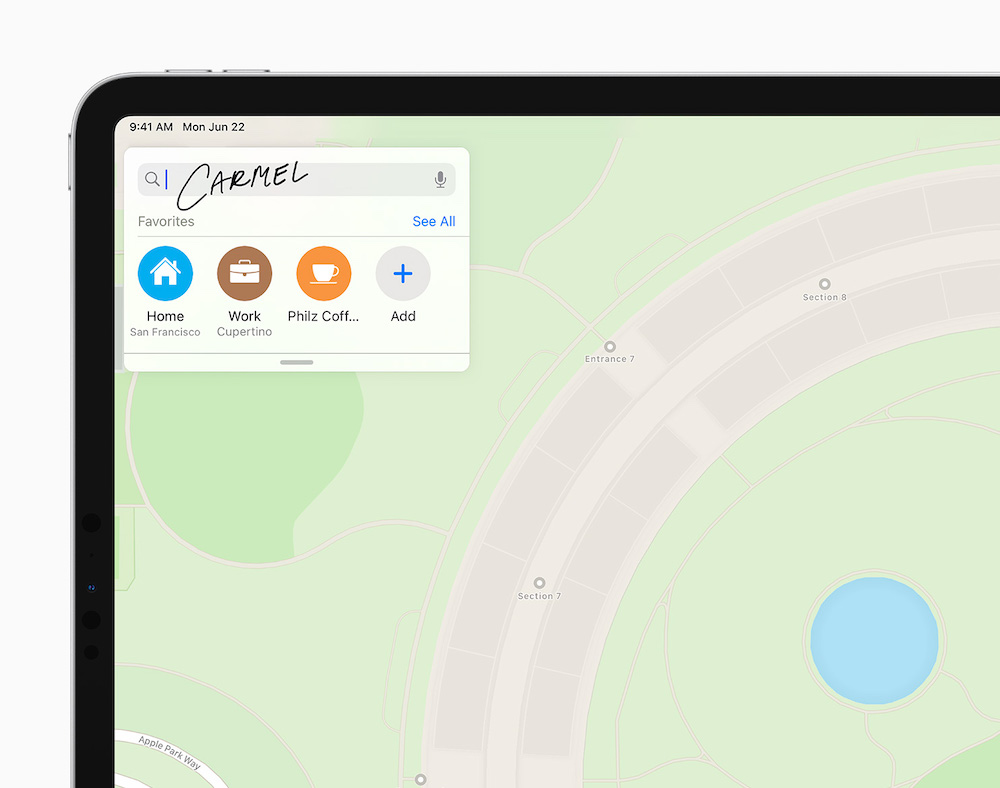 How to enter a space in Scribble
You may find Scribble combines two words together if you write closely together or have writing like mine. When this happens you only need to tap and hold your Apple Pencil on the screen where you want to divide the words. Scribble will then enter a space.
How to delete something written in Scribble
If you write something and want to change it, just scratch it out in a fluid up/down motion and it will disappear.
How to select a word or words in Scribble
To select a word or group of words just circle them to highlight them. You can then cut, copy and move those words about. Smart Selection will also let you paste text into apps that do not support handwriting.
What else can Scribble do?
Draw a loose object and select it with Apple Pencil and Scribble will identify the shape you are making and create a geometrically accurate version for you.
This will "snap right into place when adding useful diagrams and illustrations in Notes," the company said.
You can change the color and style of written text.
What about the Scribble shortcut palette?
Tap the lower right of the screen to get the shortcut palette. Apple explains this provides you with the most commonly used actions for the app you're using, so you can keep using the Pencil.
In Mail (for example) you'll get a font picker and image insertion tool, while Reminders gives you a different set of options. The advice is to experiment, as it is app-dependent and as developers introduce Scribble support you'll find new tools.
Chinese support for Scribble
Write in Simplified or Traditional Chinese using Scribble. In addition, Scribble supports mixed Chinese and English, so you can write English and Chinese words together without the need to switch languages — it's a seamless experience that's as easy as handwriting.
What makes Scribble work?
Scribble uses on-device machine learning so it can tell the difference between handwriting and drawings when you take notes.
The tool lets you select, cut and paste handwritten text into other documents as type.

What about important information?
Yes, you can write someone's phone number with your Apple Pencil and iPad's built in data detectors will recognize them, as well as dates and addresses.
When the system recognises these it lets you commit actions, such as tapping a written number to make a call or adding an event to Calendar.
When Scribble identifies that you have written such information, data detectors will turn it into an actionable element. So, if you wrote a phone number, Scribble would type it for you and turn it into a clickable item – just tap it to call.
Where do you control Scribble?
Scribble settings are available in Settings>Apple Pencil, where you can switch Scribble off and on usung a toggle.
Which apps support Scribble?
You can use Scribble on most iOS 14 apps, which at present includes Apple's own selection: Mail, Calendar, Notes and so on.
Will other apps be able to support Scribble?
Yes, other apps will be able to support Scribble. Developers who want to build support for the tool inside apps must use Apple's new APIs: UIScribbleInteraction and UIIndirectScribbleInteraction.
What languages does Scribble support?
Scribble will initially offer support for English, Traditional and Simplified Chinese, and mixed Chinese and English. The latter means you can write in both languages at once and the iPad will recognize your words without requiring that you switch languages on your device.
Why is this useful?
If you already use a Pencil for other tasks, such as creating drawings or artwork, you can now control your iPad using the Pencil including using the device for search, writing and everything else.
This means you can keep using your Pencil in a fluid way, rather than needing to put it down to get other things done.
This is also a useful way to use your iPad when wearing gloves or in other situations in which a Pencil is the primary interface, such as signing off on deliveries.
Scribble is the kind of tech made so popular with Newton. One day, when Apple makes completely waterproof iPads, you'll even be able to use these tools when diving. Which will probably come in useful.
Please follow me on Twitter, or join me in the AppleHolic's bar & grill and Apple Discussions groups on MeWe.
Dear reader, this is just to let you know that as an Amazon Associate I earn from qualifying purchases.