How to setup and use the Apple Watch ECG app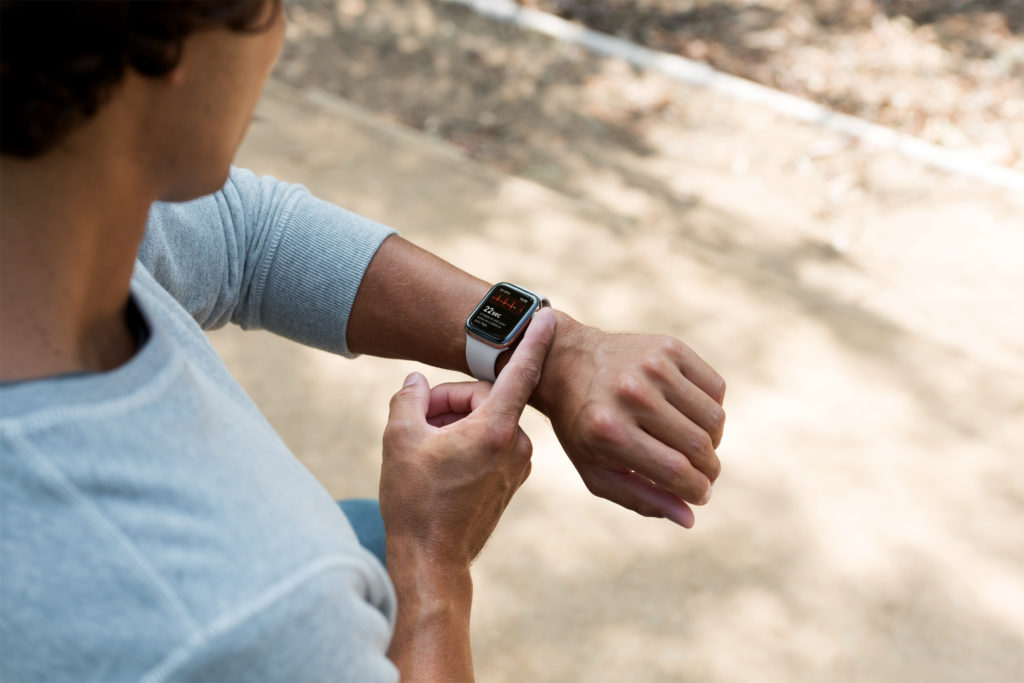 Apple has updated its Apple Watch with the long-awaited capacity to run an ECG app to help monitor your heart. The feature is already saving lives.
How to use Apple Watch Series 4 ECG app
The feature is only available in Apple Watch Series 4, the ECG (also known as EKG) app uses the Digital Crown and sensors placed at the bottom of the Watch close to your skin.
When you touch the Digital Crown, this completes a circuit which enables the electrocardiogramapp to monitor your heartbeat and check it against various heart problem symptoms.
The feature is available in the U.S., Hong Kong and 19 European countries, including France, Germany, Italy, Spain and the United Kingdom.
In addition to receiving De Novo clearance in the US from the FDA, the ECG app1 and irregular rhythm notification2 are now CE marked and cleared in the European Economic Area.
What does the ECG app do?
The ECG app can capture heart rhythm data and use this information to identify symptoms such as a rapid or skipped heart beat and help provide clinically important data to physicians.
The irregular rhythm notification feature on Apple Watch occasionally checks heart rhythm in the background and sends a notification if an irregular heart rhythm that appears to be atrial fibrillation (AFib) is identified.
The ECG app and irregular rhythm notification feature can alert users to signs of AFib. Left untreated, AFib is one of the leading conditions that can result in stroke, the second most common cause of death around the world.
Is the ECG accurate?
Apple states that a clinical trial of around 600 participants showed that the ECG app delivers 98.3 percent sensitivity in classifying AFib and 99.6 percent specificity in classifying sinus rhythm in classifiable recordings when compared to a gold standard 12-lead ECG administered by a cardiologist. 87.8 percent of recordings in the study could be classified by the ECG app.
What updates do you need?
You must update your iPhone to the latest release and your Apple Watch Series 4 to WatchOS 5.2 in order to access the app, which has been proved to be highly accurate.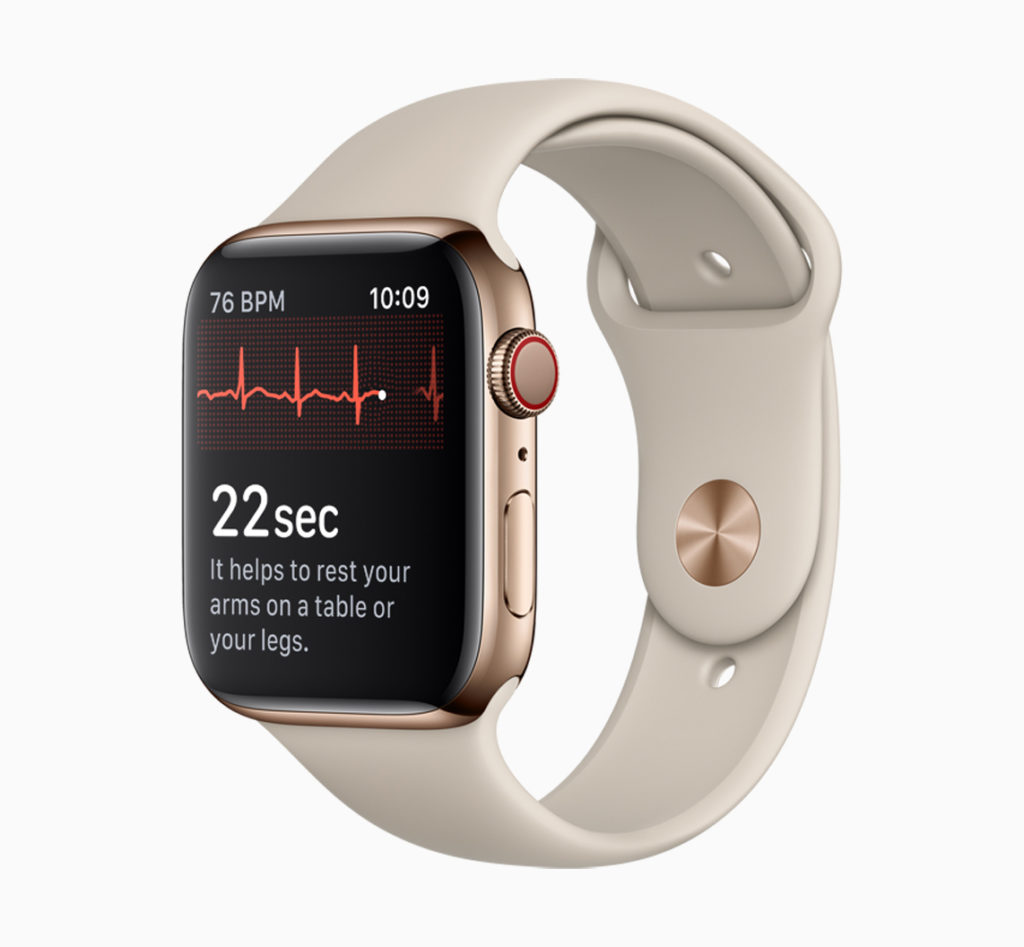 How to set up your app
You need to set the app up first.
Open the Health app on your iPhone.
The first time you open Health after upgrading you'll be asked if you want to enable the ECG feature.
Tap Setup and you'll be guided through the process all the way to taking your first ECG reading.
The app icon is a white circle with a red line that simulates a heart rate reading app, just tap it to take a reading.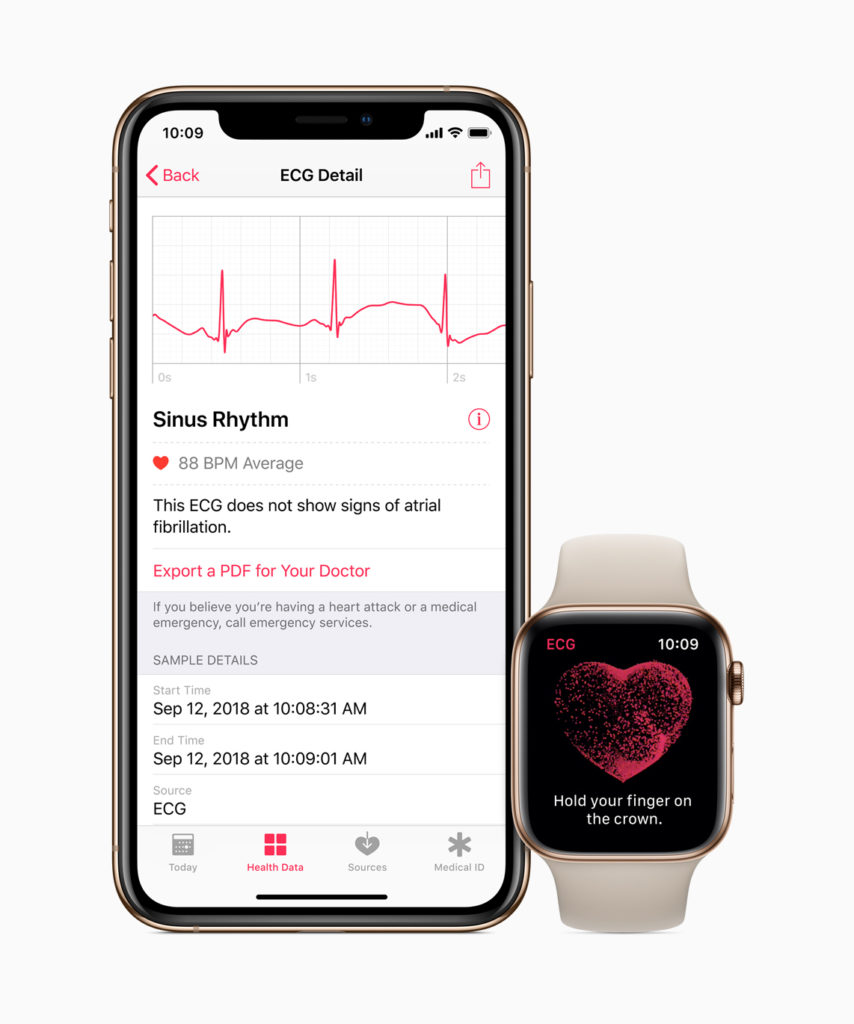 How to use the ECG app
Once you've set the app up for use, taking a reading is very simple.
To take an ECG reading you just need to open the ECG app on Apple Watch Series 4 and touch the Digital Crown. This completes the circuit and allows electrical signals across the user's heart to be measured.
The test takes 30-seconds, after which the app can classify the user's heart rhythm as AFib or sinus rhythm.
In order to ensure the best possible accuracy when taking a reading, you should make sure both you and your arms are as still as possible.
[amazon_link asins='1583335587′ template='ProductCarousel' store='playlistclub-21′ marketplace='UK' link_id='5f353968-fe12-11e8-b116-5ff3637a4f76′]
What do the results mean?
Once the test completes you will see three results:
Sinus rhythm – your heart is beating in a uniform pattern.
Atrial fibrillation (AFib) – your heartbeat is irregular.
Inconclusive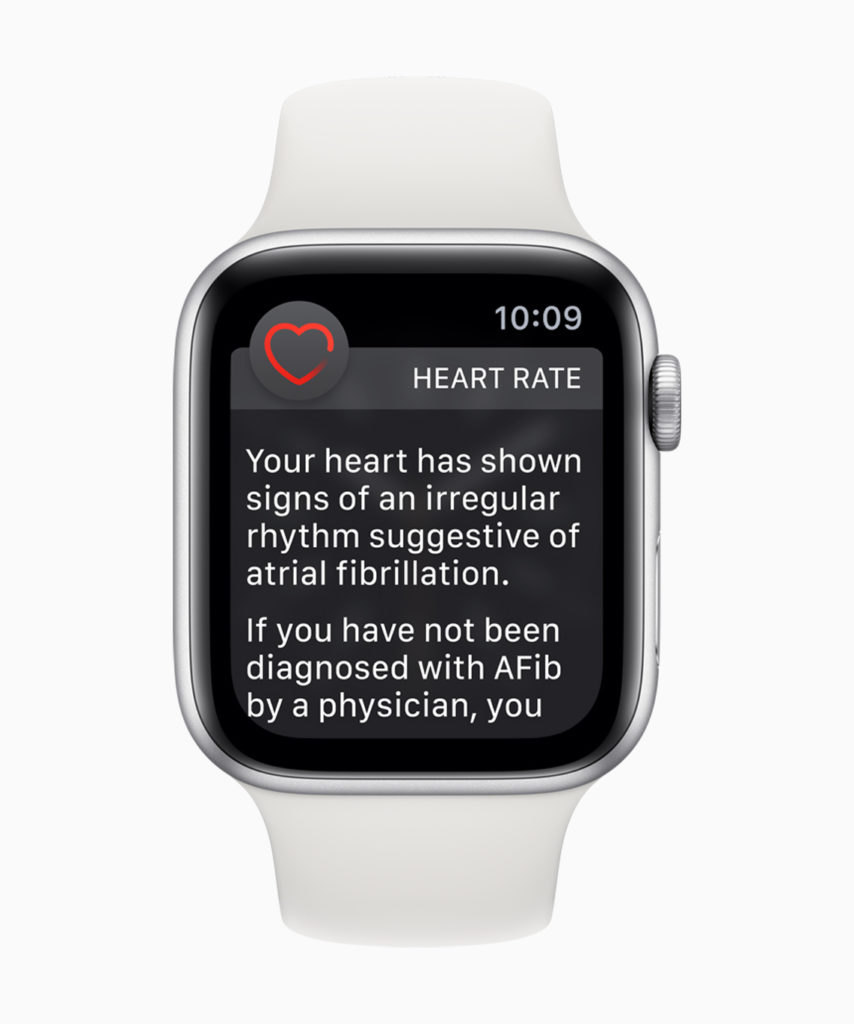 The Health app
The Health app will record each reading you take. You will be able to use the Health app to monitor results and check for any advice Apple has for you (i.e. "Go to a doctor").
You can export this data as a PDF – just choose the Export a PDF for Your Doctor item in the ECG Detail screen inside Health.
What does Apple say?
"We've seen the ECG app and irregular rhythm notifications on Apple Watch have meaningful impact on our customers across the United States," said Jeff Williams, Apple's chief operating officer in a press release.
"We are excited to bring these features to customers in Europe and Hong Kong, giving them access to empowering information about their heart health."
What is Irregular Rhythm Notification?
If you use an Apple Watch Series 1 or later, you also have an irregular rhythm notification feature. This checks your heart rhythm in the background for signs of an irregular heart rhythm using the optical heart sensor. If an irregular rhythm is detected on five rhythm checks over a minimum of 65 minutes, Apple Watch lets you know about it so you can take action.
Please follow me on Twitter, or join me in the AppleHolic's bar & grill and Apple Discussions groups on MeWe.
Dear reader, this is just to let you know that as an Amazon Associate I earn from qualifying purchases.