Glass iPhones Break, Latest Break Tests Reveal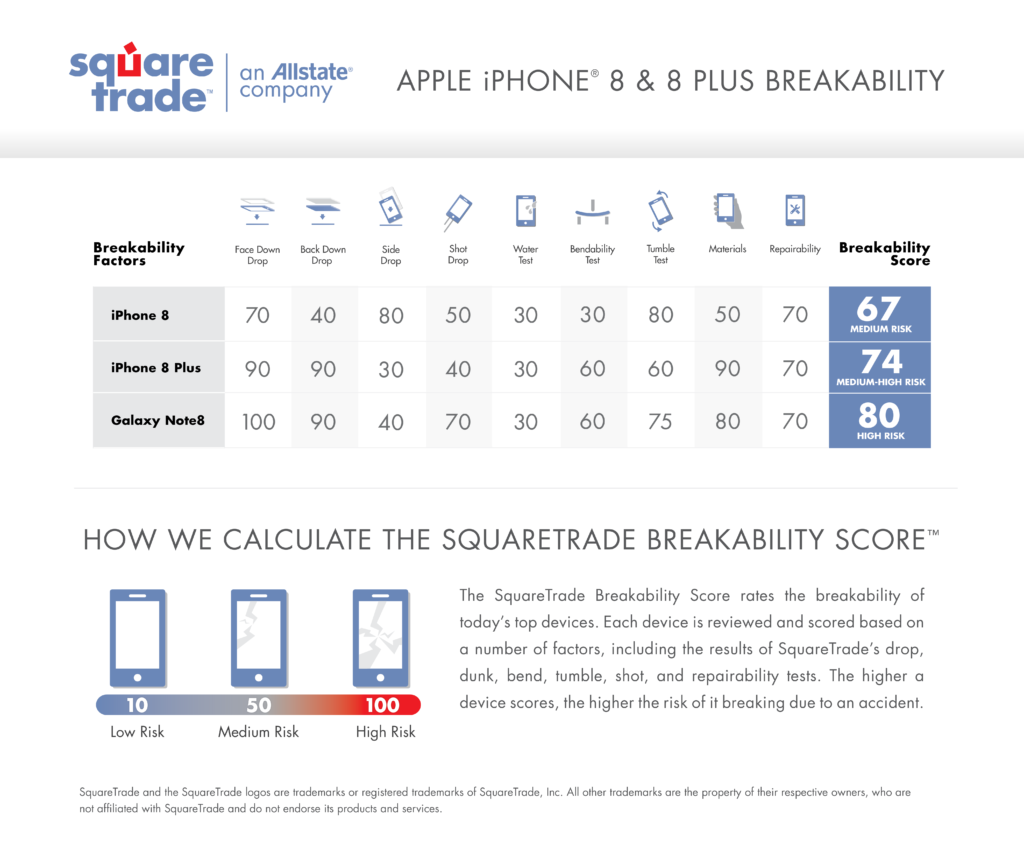 Despite their glass back, Apple's new iPhone 8 series phones are not only faster than their nearest non-Apple competitor, Samsung's Note 8, but they are also harder to break, according to the latest SquareTrade break test.
Bend me, shake me…
The test uses a range of robots to drop, dunk, slide and bend devices to destruction and determine how likely they are to be damaged. Earlier this year SquareTrade, rated Samsung's S8s as the most fragile phones ever due to their all-glass design.
While the new iPhones aren't as fragile as those Galaxy devices, you'll still want to put a decent case on them to protect those devices (here's a few).
"Like the Galaxy S8 and Note8, our tests show that the all-glass iPhone 8 and 8 Plus break on the first drop on all sides. Wireless charging is the future, no doubt. But it seems that Apple and Samsung have made a choice—to sacrifice durability in the name of innovation." said Jason Siciliano, vice president global creative director at SquareTrade.
"The iPhone 8 is an amazing device and should be quite popular. In our recent Decade of Damage Study, we found that 44 percent of current iPhone owners plan to upgrade to a new model this fall. If you're one of them, congrats—but hold on tight."
The details
Here are some of the details revealed by the tests.
The Note8 may have only suffered hairline cracks across the front with starburst cracks along the top right corner but it was the only device rendered completely inoperable. Meanwhile, both the iPhone 8 and 8 Plus shattered across their entire front, rendering them nearly unusable.
Side and Back-Drop Tests:
Apple's "aerospace-grade band" helped save the iPhone 8 and 8 Plus from disaster during the side drop. Unfortunately for Samsung, the Note8's edge-to- edge screen left it susceptible to significant damage across its back that could easily lead to a broken camera. The back-drop test was a different story altogether with both larger models, the iPhone 8 Plus and Note8, shattering across their backs and losing chunks of glass in the process. The iPhone 8 was the back-drop winner even while losing a chunk of glass from the corner.
Both the Apple and Samsung devices lived up to their IP ratings … for the most part. While the audio is significantly louder in this new iPhone generation, after being submerged for 30 minutes there was significant muffling and distortion. Even though the Note8 also survived the test, it experienced similar audio issues.
SquareTrade's newest test, meant to simulate a phone flying off the roof of a car, further showed the dangers of leaving your device unprotected. Significant damage for all phones occurred on the first shot, however, the Note8 had the most significant damage with multiple pieces of glass coming off the screen.
Even though a cracked screen on the new iPhone 8 and 8 Plus could be easily repaired, its new glass back presents a whole new world of complications, making it more difficult and more expensive to repair than previous generations. Nevertheless, the Note8 with its multiple, fragile inner cables, is just a tedious phone to repair all around.
Here's a little video that shows you how these tests went for those poor devices…
Dear reader, this is just to let you know that as an Amazon Associate I earn from qualifying purchases.