Apple's U.S. Q1 iPhone activations hit 5-year high
Apple accounted for more iPhone activations (as a percentage) in Q1 2020 than it has for five years.
There's a reason Apple and Google are working together to try to create some kind of private coronavirus testing system – they account for 100% of smartphones sold in the U.S..
Stable shares, loyal audiences
In the most recent March 2020 quarter, Google Android had 56% of activations, while Apple iOS had 44%, the most recent CIRP data claims.
That's interesting in its own right, but also because this is the highest share iOS has had since before Q1 2016 and the lowest share Android has grabbed in the same period.
"US operating system market shares have varied slightly in the past few years, but have remained remarkably stable," said Josh Lowitz, Partner and Co-Founder of CIRP.
"Android has typically had a somewhat greater share, but shares have not varied considerably. If public health officials hope to cover the entire US population with a proper COVID-19 contact tracing app, Apple and Google must figure out a way to do it together."
Shares have remained stable because operating system loyalty has reached very high levels.
In the most recent March 2020 quarter, 89% of Android users remained with Android, while 91% of iOS users remained with iOS when activating a new mobile phone, the analysis claims.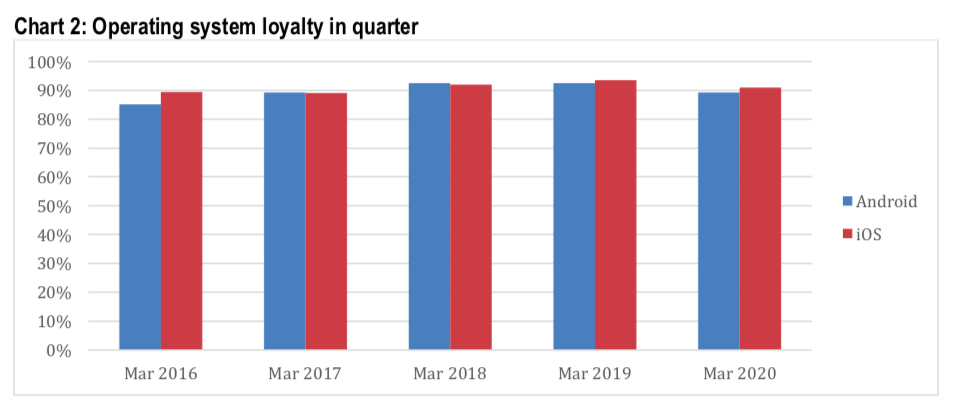 "Operating system usage is among the stickiest of all consumer affinities."
Mike Levin, Partner and Co-Founder of CIRP obsevers:
"For the past four or so years, around 90% of new mobile phone activations stayed with the buyer's previous operating system.

"Despite Apple's efforts to attract Android users to iOS, and Android handset manufacturers' similar efforts to attract iPhone customers, operating system usage is among the stickiest of all consumer affinities."
CIRP bases its findings on a survey of 500 US subjects, from April 1-9, 2020
Please follow me on Twitter, or join me in the AppleHolic's bar & grill and Apple Discussions groups on MeWe.
Dear reader, this is just to let you know that as an Amazon Associate I earn from qualifying purchases.