Apple just cut the length of its annual Apple Music Festival (a second time)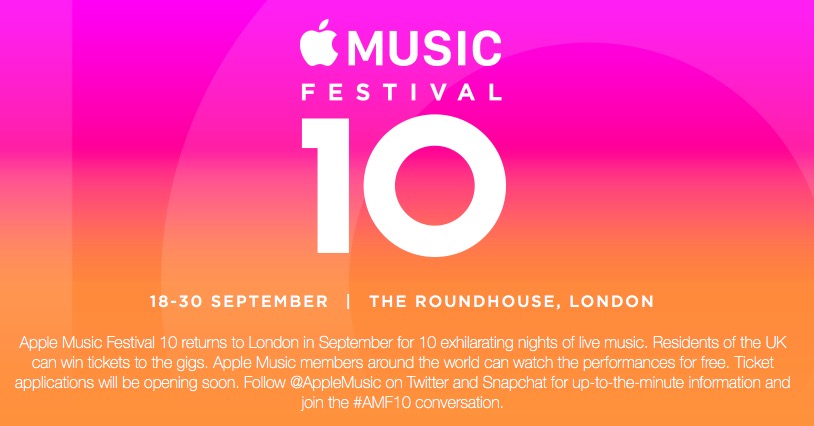 Apple has announced this year's annual Apple Music Festival at London's Camden Roundhouse, the tenth year running during which it has run the event. (I can still recall seeing the stunning talent that was Amy Winehouse perform at one of these events, way back in 2007 when the company began hosting them, at the ICA).
Apple is keeping its cards close to its chest so far this year — we have no idea at present who is going to perform, but we do know you can win, but not buy a ticket.One thing it hasn't been able to hide is that the annual music jamboree has been cut short — this year runs from September 18-30, while in previous years the "free to ticket winner's" music fun has extended across an entire month. EXCEPT  in 2016 when it ran ten days.. it changed last year..
This may not be a bad thing, of course — I'm guessing London gig promoters will breathe a sigh of relief as it means they may have a chance to build an audience for their shows, but it does make one think. Has Apple really cut the duration of the event, or has it got something else in mind? And which artist is going to headline the show on the day the new iPhone ships, estimated in some quarters to be around September 24?
Artists appearing at the event (and the chance to win free tickets to see them) will be announced soon.  Apple says any Apple Music member will be able to watch the performances online, which should be particularly good fun if you're also an Apple TV owner!
You can keep posted with what's on at the show on the Apple Music Festival page right here, where you can also enter competitions to win yourself a ticket, and here's the promo video:
Dear reader, this is just to let you know that as an Amazon Associate I earn from qualifying purchases.