Apple Introduces Essential GarageBand, Logic Pro X Updates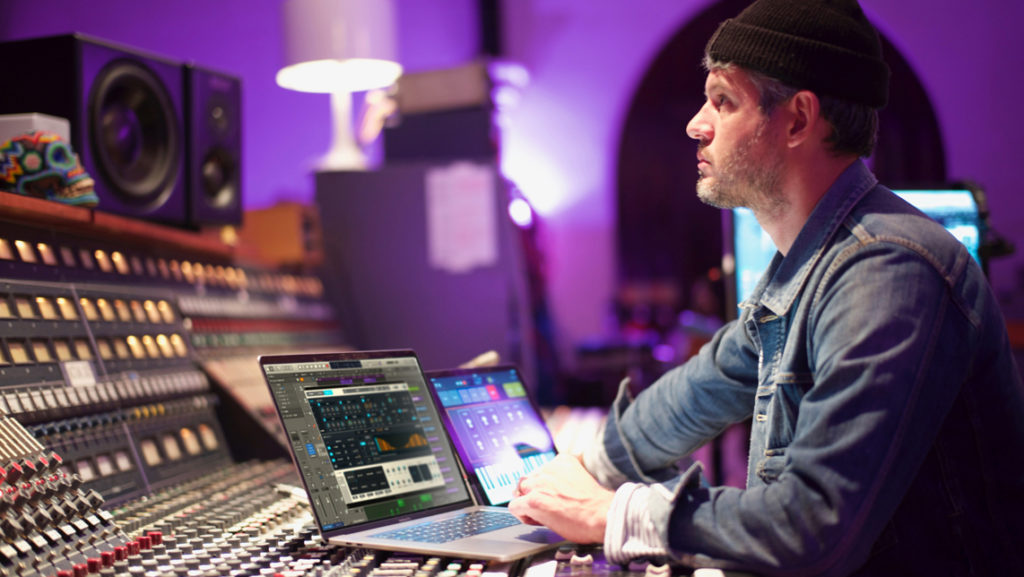 Apple just shipped major updates for GarageBand and Logic Pro X for all supported platforms, delivering new tools and (I think) exciting new features for music makers on its platforms.
Logic Pro X gains a 64-bit summing engine, 192 additional busses and true stereo panning, providing discrete control of stereo signals.
Essential
The flagship highlight appears to be that GarageBand for iOS 2.2 now features the Alchemy synthesizer Alchemy.
Alchemy includes a rich collection of over 150 Apple-designed patches from a wide variety of genres, including EDM, Hip Hop, Indie, Rock, Pop and more. Alchemy's Transform Pad lets users morph between eight sonic snapshots in real-time, to create expressive synth performances.
Highlights:
GarageBand also features a redesigned sound browser that speeds up the process of finding the appropriate instrument, with touch support
Logic Pro X 10.3 sees new features for professional audio production and MacBook Pro Touch Bar support – the latter makes it seems to really help get to the tools you need when working with music in the application.
One key improvement serves as a good illustration of the way Apple continues to find ways to help its mobile and Mac platforms work together: Logic Pro X users can remotely add new tracks to their Logic sessions from their iPhone or iPad when they're away from their Mac.
Multi-Take Recording, giving users multiple passes to capture their best performance and the ability to audition and switch between their favourite takes.
Music Anywhere
I think there will be some music makers who like that they can now upload GarageBand-compatible versions of Logic projects to iCloud. Once in iCloud they will be able to open those projects on their iOS devices to add new recordings whenever they like.
"When the project is saved back to iCloud, any newly added tracks will automatically appear in the original Logic project the next time it's opened on a Mac," Apple says.
(I strongly advise saving an archive of work in progress before using this feature, at least while getting used to this new workflow.)
That's particularly useful now the Alchemy synth is included in the software as it means musicians can create tracks and musical components on their iOS devices when they aren't in the studio.
"Music has always been part of Apple's DNA," said Susan Prescott, Apple's VP Applications Product Marketing. "These updates bring a wide range of new and highly requested features to both hobbyists and the community of pro musicians and audio engineers who rely on our software and hardware to create amazing music."

Additional GarageBand highlights
A redesigned GarageBand Audio Recorder that adds fun vocal effects along with more sophisticated studio effects such as pitch correction, distortion and delay.
You'll also find new advanced audio processing tools, including an interactive graphic Visual EQ and the ability to use third-party Audio Unit plug-in effects for expandable, creative sound design.
Additional Logic Pro X Highlights
Logic Pro X Touch Bar on MacBook Pro support means you can now view and navigate your project in a timeline overview, along with convenient access to volume and Smart Controls for any selected track. New performance controls let you play and record software instruments with the Touch Bar using a piano keyboard that can also be customized to a variety of musical scales, or by tapping drum pads to create beats. Assignable key command buttons let you customize the Touch Bar controls.
Track Alternatives makes it easier to experiment with various creative ideas while Selection-based Processing lets musicians apply any combination of Logic or third-party effect plug-ins onto any selection of one or multiple audio regions. "It is useful for optimising sound quality and a great tool for creative sound design," Apple said.
Available now
Both the GarageBand for iOS and Logic Pro X updates are being made available free for all existing users. More images here.
Dear reader, this is just to let you know that as an Amazon Associate I earn from qualifying purchases.