Apple announces new MacBook Air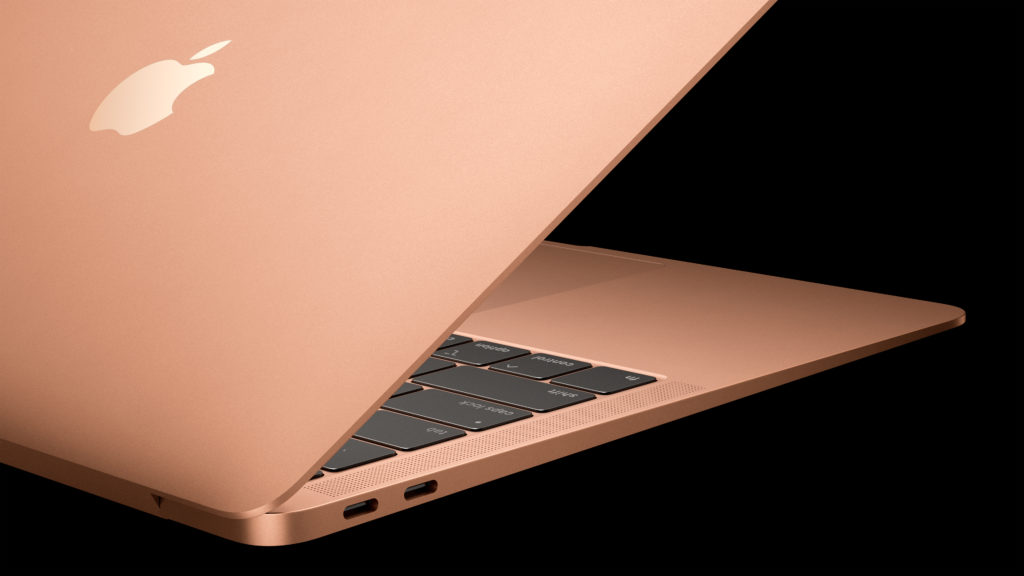 Made of 100 percent recycled aluminium, the all-new MacBook Air features 13-inch Retina display, Touch ID, the latest processors and all day battery life.
Apple today introduced its new Retina display MacBook Air. The new system features a 13-inch Retina display, Touch ID, the latest processors and an even more portable design.
"The first MacBook Air revolutionized Mac with its thin wedge-shaped aluminum design. It forever changed the entire industry for portable computers and became the world's most loved notebook," said Philip Schiller, Apple's senior vice president of Worldwide Marketing.
MacBook Air is available in gold, space gray and silver. It carries an Apple-designed keyboard, a Force Touch trackpad, faster SSDs, wide stereo sound, the Apple T2 Security Chip and Thunderbolt 3.
What about the display?
The new computer features a 13.3-inch Retina display with over 4 million pixels of resolution. That means 48 percent more color than the previous generation, images are more lifelike than ever.The new MacBook Air also includes a built-in FaceTime HD camera and a three microphone array for better sound quality when making calls and improved voice recognition for Siri.
Touch ID and Apple T2 Security Chip
Like the MacBook Pro, the MacBook Air includes Touch ID which allows you to conveniently and instantly unlock your MacBook Air, authenticate your identity, and make fast, simple and secure purchases using your finger.
The MacBook Air comes with the Apple T2 Security Chip. This is likely to be a little controversial but in an environment in which hardware and software threats work together will likely be imitated by other hardware designers soon. The T2's Secure Enclave protects Touch ID information and also ensures that software loaded during the boot process has not been tampered with.
The T2 also features an SSD controller with on-the-fly data encryption for everything stored on the SSD. These allow MacBook Air to offer the most secure boot process and most secure storage of any notebook. T2 also features an always-on processor that enables "Hey Siri".
A better keyboard
The computer uses the samethird-generation Apple-designed keyboard you find in MacBook pros. Keys are individually backlit using low-power LEDs for more accurate illumination.
The Force Touch trackpad is 20 percent larger than on the previous generation MacBook Air, offering a quieter and more capable trackpad experience. The speakers are 25 percent louder with two times more bass than the previous generation for more dynamic range and fuller sound.
[amazon_link asins='B015WXL0C6′ template='ProductCarousel' store='9to5ma-20′ marketplace='US' link_id='20d70a11-dc53-11e8-9b1e-e14421ea4ec0′]
Processor details
The new MacBook Air features an 8th generation Intel Core i5 processor, Intel UHD Graphics and faster 2133 MHz system memory up to 16GB, delivering the performance you need for everyday activities like organizing your photos, browsing the web, creating presentations or viewing and editing videos.
MacBook Air also features SSDs up to 1.5TB in capacity, that are up to 60 percent faster than the previous generation.
Connectivity? Two Thunderbolt 3 ports.
The design
The new MacBook Air packs all of these features in a new, distinct wedge-shaped design which is now even more compact and portable, and delivers up to 12 hours of battery life during wireless web use and up to 13 hours of iTunes movie playback. Featuring a significantly smaller footprint, the new MacBook Air takes up 17 percent less volume, is 10 percent thinner measuring just .61 inches at its thickest point, and at just 2.75 pounds is a quarter pound lighter than the previous generation.
A green machine
The new MacBook Air enclosure is made from a custom, Apple-designed aluminum alloy that enables the use of 100 percent recycled aluminum for the first time, which has the same strength, durability and beautiful finish as the aluminum in all Apple products. Using this custom aluminum alloy helps reduce MacBook Air's carbon footprint by nearly 50 percent, making it the greenest Mac ever.
Radeon Pro Vega Graphics Coming to MacBook Pro Next Month
Apple also today announced new MacBook Pro graphics options that will bring powerful Radeon Pro Vega graphics to MacBook Pro for the first time. These new graphics options deliver up to 60 percent faster graphics performance for the most demanding video editing, 3D design and rendering workloads.1
Starting at $1,199, the new MacBook Air is available to order today on apple.com. It will be available in Apple retail stores and through Apple Authorized Resellers starting Wednesday, November 7. Additional technical specifications, configure-to-order options and accessories are available online at apple.com/mac.
The new graphics configuration option for MacBook Pro will be available to order on apple.com and in Apple retail stores and through Apple Authorized Resellers starting Wednesday, November 14.
Dear reader, this is just to let you know that as an Amazon Associate I earn from qualifying purchases.