6 Apple Prototypes That Never Shipped
Apple often says it's as proud of the things it doesn't ship as those that it does, so I thought it might be nice to put together just six Apple products that never got beyond prototype stage. Though some came really, really close.
The Apple Walt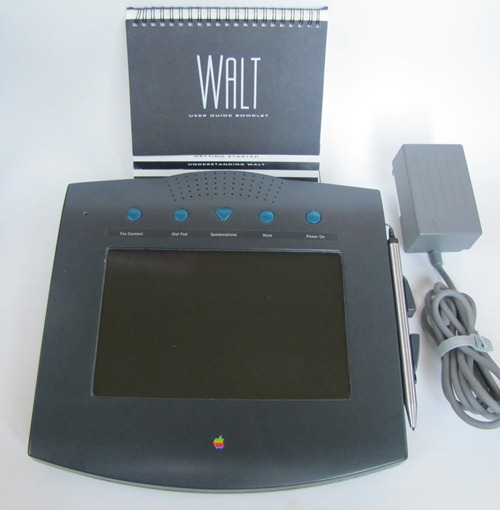 Announced at Macworld Expo, Boston way back in 1993, the Walt never actually shipped. The device was intended to be a smarter version of a landline telephone. Among other cool-sounding features it had a pen-based touch screen, fax capabilities, banking and contact management tools and ran System 6 and Hypercard. One of these things turned up on eBay last year (it sold for $8,000), and the accompanying printed manual suggests the company came insanely close to shipping the product. Take a look at the listing here.
The ClickWheel iPhone
It never shipped but Apple insisted on creating a prototype all the same as it sought to ensure the decision to use MultiTouch in iPhone really made sense. Pictures and video published by blogger, Sonny Dickson, show us just what a clickwheel iPhone might have worked like – the lower half of the screen becomes a clickwheel while the upper half becomes a text-based UI. That Apple worked on something a little like this (thought he wheel may have been mechanical) was recently confirmed by iPod father Tony Fadell.
The first Apple TV
As well as this Wiki image the incredibly rare Apple Interactive Television Box prototype is also featured with the vast Mac Collection of Apple devices. Apple's earliest foray into television it never shipped. It was a set top box was developed by Apple in partnership with global telecommunications firms in the mid-nineties. The idea of the system may sound familiar – it was to "push content to the users TV with a remote and fast Internet connection. The only difference was that it needed a central content server to pull the content out," writes Philippe Poppe.
The Mac Mini with an iPod dock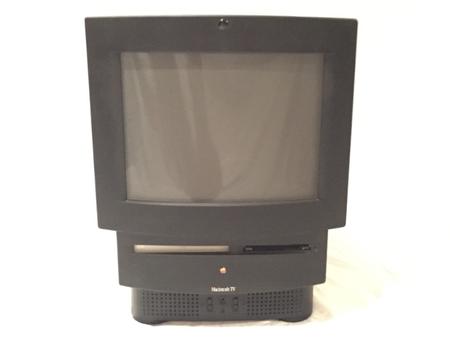 Apple collector, Henry Plain, has an incredibly rare prototype Mac mini (and no picture…). Apparently Apple had originally intended introducing the iPod mini at the same time as the Mac mini, but the project fell behind. The company wasn't going to lower its standards by introducing a Mac with a dock for a "future product", so it was abandoned. The company never got around to introducing anything like this. Plain has a great collection of many different Apple prototypes, including the ill-fated Macintosh TV (see image above) and translucent prototypes of some portable Macs, you can see these on his website. (Incidentally, there's a Macintosh TV available for auction at time of writing).
The Apple Paladin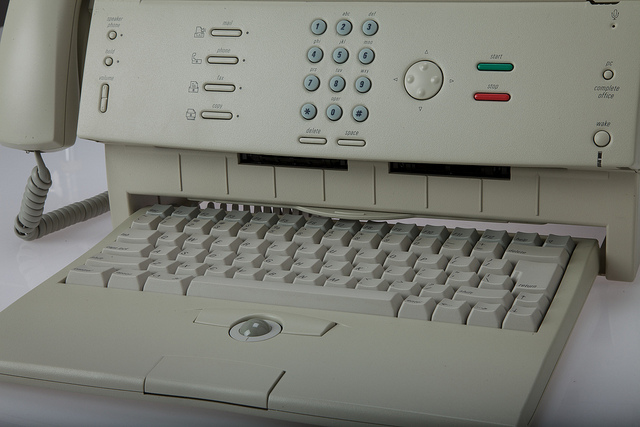 Apple always wanted to get into telephones before it reinvented them. That's not such a great surprise when you think on Apple's Steve Jobs and Wozniak's antics with Captain Crunch, another in the long line of unreleased prototypes is the Apple Paladin. This combined a Mac with a fax machine, scanner, and all-in-one telephone developed in 1995. It had a pull out keyboard, a trackball, and a phone receiver that kept dropping off its mount. Take a look at more images of this and other rare Apple devices over at Jim Aberle's Flickr stream.
The PenLight
The Macintosh PowerBook Duo tablet computer was an early iPad. It combined a PowerBook Duo with a pen-controlled display and was developed at the same time as the Newton. What made this product stand apart is that rather than just being a PDA, the PenLight was a full-fledged Mac. The product never reached the shops as Apple management at that time wanted to avoid introducing too many competing stylus-controlled devices.
[amazon_link asins='B01FIXCQ1Y' template='ProductCarousel' store='9to5ma-20′ marketplace='US' link_id='5dea53eb-af81-11e8-9de6-05dfeed52891′]
Want more?
Want more Apple history? Then take a look at this hand-picked selection of the world's best ever Apple history books.
There are many Apple collectors  who have published images of their collections online, two great examples include this extensive Flickr collection and Philippe Poppe's fascinating selection.
But there are many more — so you should also take a look at these:
(If you are a collector or know a collector, please let me know in comments below and I'll add a link to them here).
Dear reader, this is just to let you know that as an Amazon Associate I earn from qualifying purchases.