3 backlit iPad keyboards you can buy today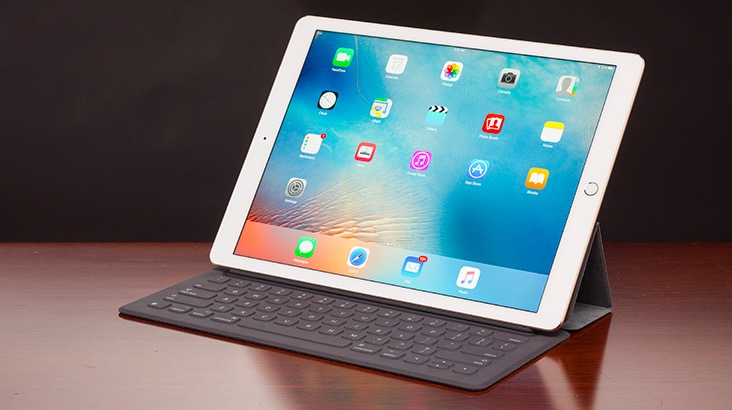 Word is out that Apple will introduce an iPad Smart Keyboard equipped with a backlight, but you can already get hold of systems from other manufacturers for this. Here are three  illuminated keyboards you can get from Amazon today.
What's the rumor?
A quick reprise of the latest claim, which is that Apple intends adding a backlight to its smart scissor-switch keyboard this year.
Now, we don't know how Apple will support a glowing iPad keyboard, though it is I guess reasonable to assume it will be a low power device that draws charge from the tablet, rather than using a battery. It will also integrate closely with iOS, though Apple may also feel under some pressure to make the software tech into an API for its loyal third-party manufacturers.
However, in making the backlit key available the company will be maintaining what is now a tradition when it does as it first introduced backlit keyboards with its top-of-the-line 17-inch PowerBook G4 back in 2006. It was very popular and it helped set expectation at the time.
No wonder Apple wants to make it an iPad feature.
But some iPad users are using it already…
Here are three examples of backlit iPad keyboards you can take a look at today most of which use Bluetooth to connect the keyboard component:
Meet the keyboards..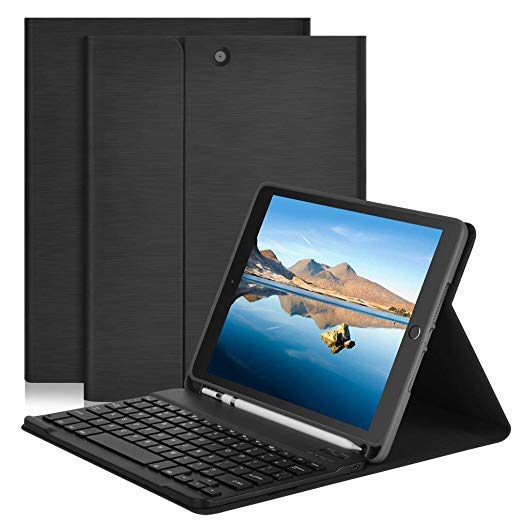 Logitech Slim Folio
I'm usually a fan of Logitech products. The company has made accessories for Apple's Macs, iPods, iPhones and iPads for decades, and these things usually work as you want them to work. The Logitech Slim Folio range maintains the tradition, but adds shortcut keys and an Apple Pencil holder to the illuminated iPad keyboard it offers. You can also use your iPad in an artist-friendly "easel mode", which should be useful when you're using an Apple Pencil rather than actually typing. Snags? It's a little bulky. The good thing? You'll find it for around $70, (depends on iPad model) though you do see a thriving trade in these (particularly for older iPads) on eBay. Logitech also make the Rugged Folio case, which is slightly more expensive but I think much better.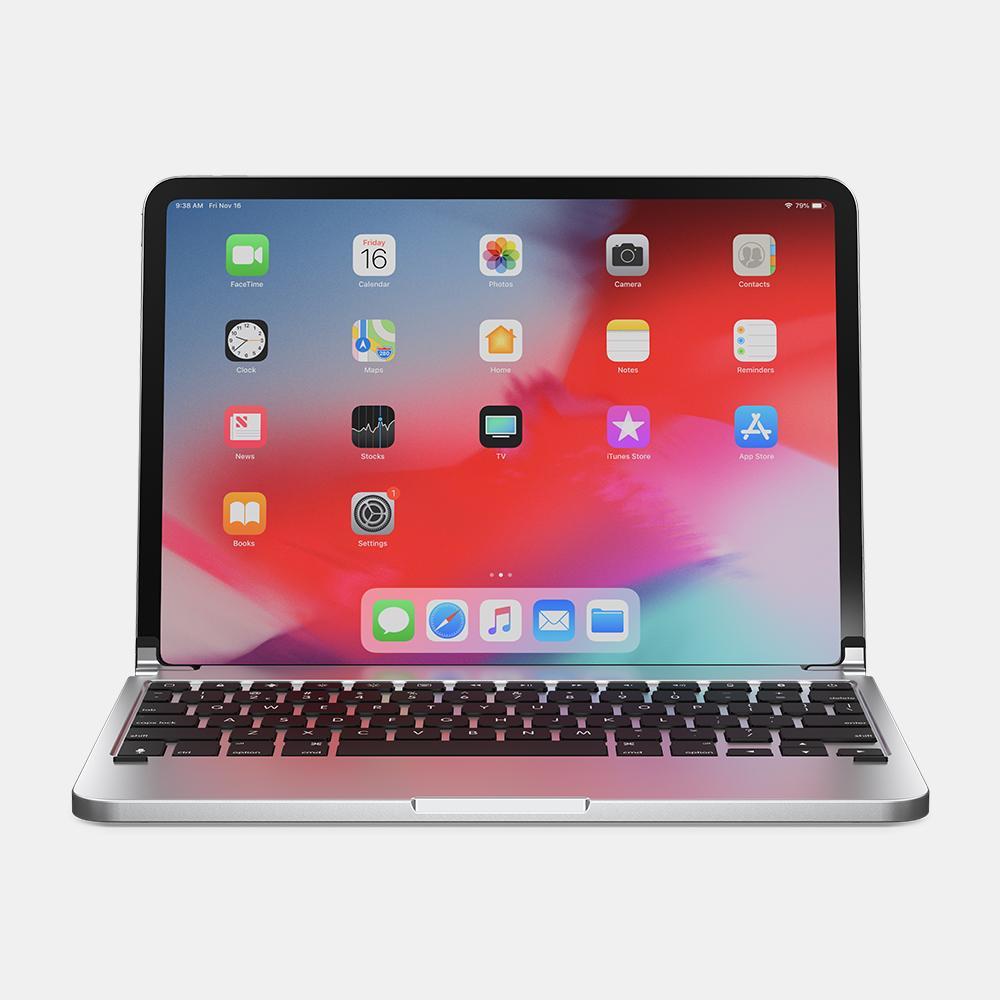 Brydge Pro
This is very much like a Mac keyboard. Keys are decently raised and spaced apart and its hinged connection means you can support your iPad at the most convenient position for your needs. It also includes media and brightness keys and the keyboard is charged using USB-C. The keyboard is thicker than Apple's super-slim offering, but if you want to keep on typing in a poorly lit location, the backlit keys may be just what you need.
These things aren't especially cheap (though still cheaper than Apple's own offering which sets you back $179). Amazon charges around $159 (depending on configuration) for the thicker and heavier Brydge Pro, which really makes your iPad look more Mac-alike. Visit the manufacturer.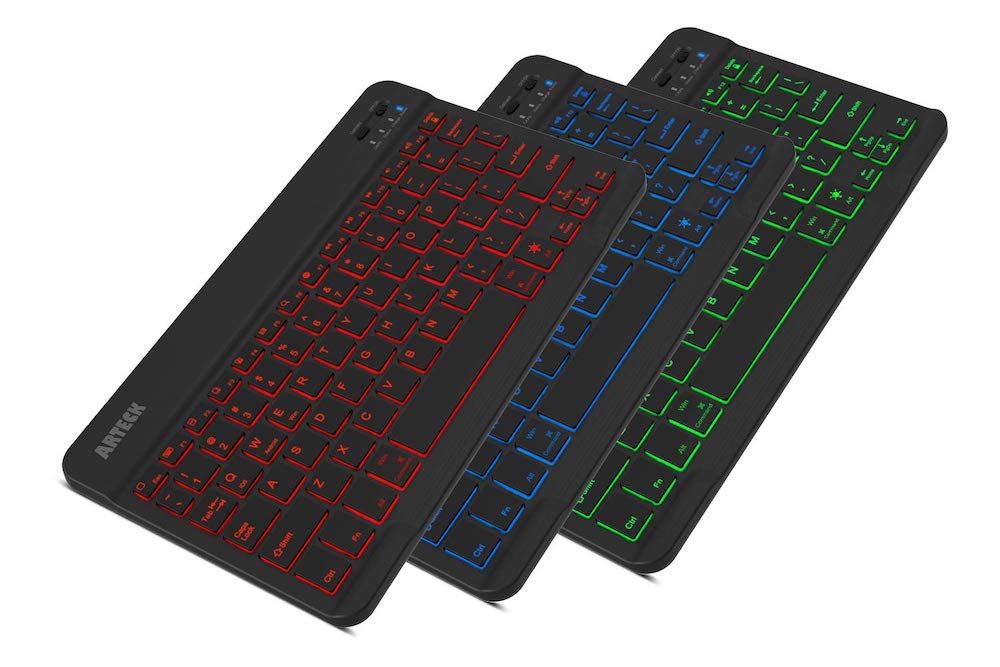 Arteck HB030B Universal
The name's a bit of a mouthful, but the USP for Arteck's offering is that not only does the keyboard light up, but it changes color, cycling through a total of seven shades. Plus it only costs $20. The snag? It's only iPad-compatible, really, which means it doesn't physically connect with your device and works pretty much like any Bluetooth keyboard. It uses a built in rechargeable battery which promises six months. It's really light – but you'll still need an iPad stand. But only costs $20.
Do you use a great backlit iPad keyboard? I know I've missed a few of them so if you happen to have used a particularly good one please let me know.
Please follow me on Twitter, or join me in the AppleHolic's bar & grill and Apple Discussions groups on MeWe.
Disclaimer: We do use affiliate advertising where possible and carry ads. We do not collect data on readers, though the ads networks might.
Dear reader, this is just to let you know that as an Amazon Associate I earn from qualifying purchases.