20+ reasons Apple will survive the FAANG wars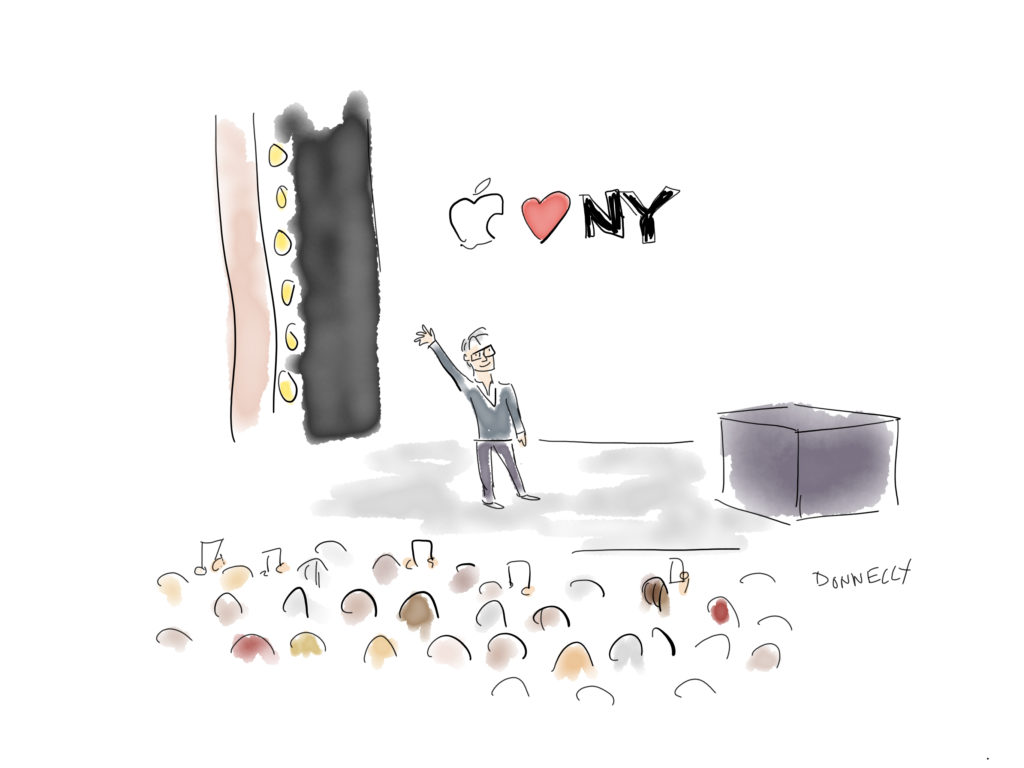 Needham & Co. analyst Laura Martin is one of my favorite Apple-focused analysts and she raised her guidance on the company today, to Strong Buy with a $225 target price.
20+ reasons Apple will survive
Announcing the raise, she cited the company's ecosystem, network effect, survey data of 600 people, and the content services the company will announce.
I've looked through the extensive research note to identify some of the reasons Needham has such faith:
Apple's network effect
Apple has a powerful hardware-based network effect. Most users stick with the platform(s) for eight years.
FAANG stock survivor
The most successful ecosystem firms on the planet are the FAANG firms (Facebook, Apple, Amazon, Netflix, Google). Martin believes Apple is the most likely FAANG ecosystem to prevail.
"We believe that the FAANGs will increasingly get into each other's businesses," she explained, adding "We conclude that Apple is best positioned to outperform FAANG competitors."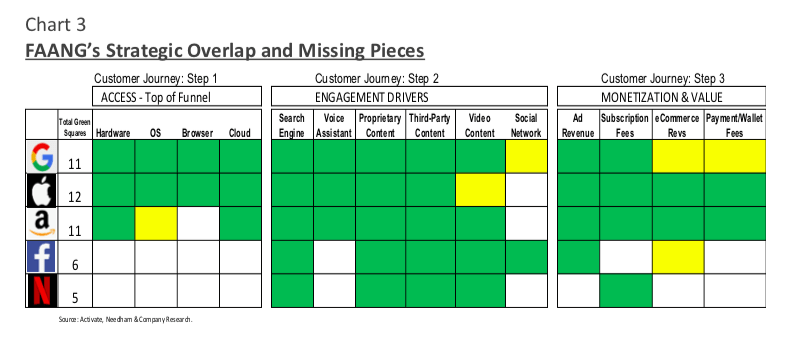 Apple is an ecosystem, not a product company
Wall Street may not understand it, but Apple is an ecosystem. You purchase its products to enter its ecosystem. "If AAPL were valued as an ecosystem company, we think it would trade at $265/share, up 42% from current levels," Martin said.
Apple doesn't want you to upgrade (it does)
Apple is most vulnerable when people need to upgrade their device, as that is when they are most at risk of leaving Apple.
Apple uber Alphabet
To take this notion even further, Apple isn't up against product-focused Android—its ecosystem competes against the entire Alphabet/Google ecosystem. "Of the 1Q19 respondents that bought an Android first, 45% switched to AAPL the first time they upgraded, 30% the second time, and 25% the third time."
Android switchers don't go back, much
100/100 people Needhams surveyed who had previously used Android devices before switching to Apple never went back.
Apple should offer discounts to Phandroids
With this in mind, analyst Martin thinks Apple should offer discounts to Android users to bring them into its ecosystem. After all, most Android users stick with Apple, and most people who do stick with Apple stick around for years.
People still sweat the detail
Needham's points out that in its own surveys it has found that the things customers say they like most aren't necessarily "product attributes". It turns out they also like iMessage conversations between iOS users, always-on texting, ease-of-use and a number of other tools you can only use if both parties use iPhones.
Everyone who owns any Apple product owns an iPhone
This stat speaks for itself and gives Apple a universe of around a 900 million users, many of whom own two or more of its products. 22 percent of Apple users owned four or more Apple products.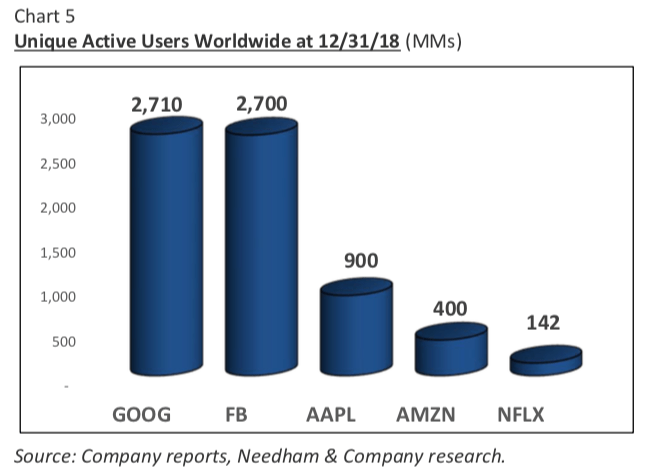 Apple's core market
One more thing: That near one billion user congregation also includes some of the "wealthiest individuals in the world," the analyst said, citing this as the 15 percent of the wealthiest folk.
Apple should sell product bundles
'Get a Mac, and get a discounted Apple Watch'. "Owning more products is the fastest way to lower exosystem churn."
Services are sticky
If you offer nice services users are likely to stick around twice as long. Not only this, but users find more ways to spend money within Apple's ecosystem over time which serves to increase loyalty.
Spending isn't always big – but it adds up
Over 50% of Apple users spend under $10/month on apps, games, subscriptions, etc.
25% spend $10-$20/month
12% spend $20-$30
8% spend over $30/month.
Free cash flow
The analyst estimates that Applegenerates 2-4x more annual free cash flow than any other FAANG. In fact, it generates more annual FCF than all the other FAANGs combined. The company could "double" the cash it has in just two years.
Superfans
30 percent of households using Apple products have 8 or more Apple products in their home.
The 86-ers
Apple generates $86 per user per year, Martin says.
But size is also power
Apple has around 15% of the global smartphone market. Android has 70 percent. Which company (Google or Apple) is most likely to experience government oversight? It's Google which will bear the brunt of any competitive regulation, while Apple's relatively smaller market size means it can't be accused of dominance.
Apple's Harry Potter
While we've always judged Apple as a product company, Martin repeated her analogythat Apple is more like Harry Potter than Pixar. "There appears to be a floor level of demand that lowers Apple's risks", she said, citing iPhone's 200 million/year stable sales record, the 45 million iPads Apple sells most years and 20 million Macs. Apple's customers may not invest in every product, but tend to stick around when they aren't tempted to purchase the current upgrade.
The network effect
Apple has strong network effect advantages:
#1. Hardware-Based Direct Network Effect for iOS
#7. Two-Sided Platform Network Effect for the iTunes store & services.
#11. Language- "Let's ask SIRI"
 #12 Belief Network Effect
#13. Bandwagon Network Effect based on Apple's products as a tech-savvy, hip lifestyle brand.
[amazon_link asins='B07PHWKZMH' template='ProductCarousel' store='9to5ma-20′ marketplace='US' link_id='82487ffb-8c78-4c74-a41e-0181b710248e']
AI may be Apple's weak spot
Needham's believes machine learning and AI will be the most important network effect in the next few years.
It argues that Apple has a weakness here, and it's not the tech – "in an AI world, their [Apple's] data is biased- it's only about upper income people (ie, their clients)."
"We expect this data bias to taint their AI algorithm outputs, making their conclusions less valuable," than the other FAANGS, who basically get better (because more diverse) data.
I can see this becoming a potential problem as AI drives increasing human activity.
Final words
"Investment positives include AAPL's strong strategic position in the rapidly growing global mobile device market, especially with the wealthiest consumers. In addition, strong brand loyalty results in lower competitive pressures, higher pricing power, more predictable revenue streams, and a halo effect that drives sister-device sales. Finally, AAPL's valuation looks inexpensive in light of its large cash balances and strong FCF, its share repurchase program, and its dividend payout."
Economic weakness, trade wars or poor reception of an Apple product are the biggest threats, the analyst states.
Please follow me on Twitter, or join me in the AppleHolic's bar & grill and Apple Discussions groups on MeWe.
Dear reader, this is just to let you know that as an Amazon Associate I earn from qualifying purchases.