10 essential iPhone photography accessories
If you want to take better photos with your iPhone then you should take a look at these useful accessories which should help you take better photographs with the smartphone you've already got.
1. Some clip-on lenses
Several manufacturers make high-quality clip-on lenses for smartphones. Telephoto, wide angle and zoom lenses are available from various manufacturers, including Olloclip and Sandmarc. If you use an iPhone 7/8 series device, Olloclip offers the Filmer's Kit, which includes an active lens set and a 225-degree articulating mobile grip for better – and steadier – images.
What's important to understand is that because these solutions are physical lenses, rather than digital, the images you capture are more accurate and contain more data which you can then enhance using your choice of image editing suite on your device.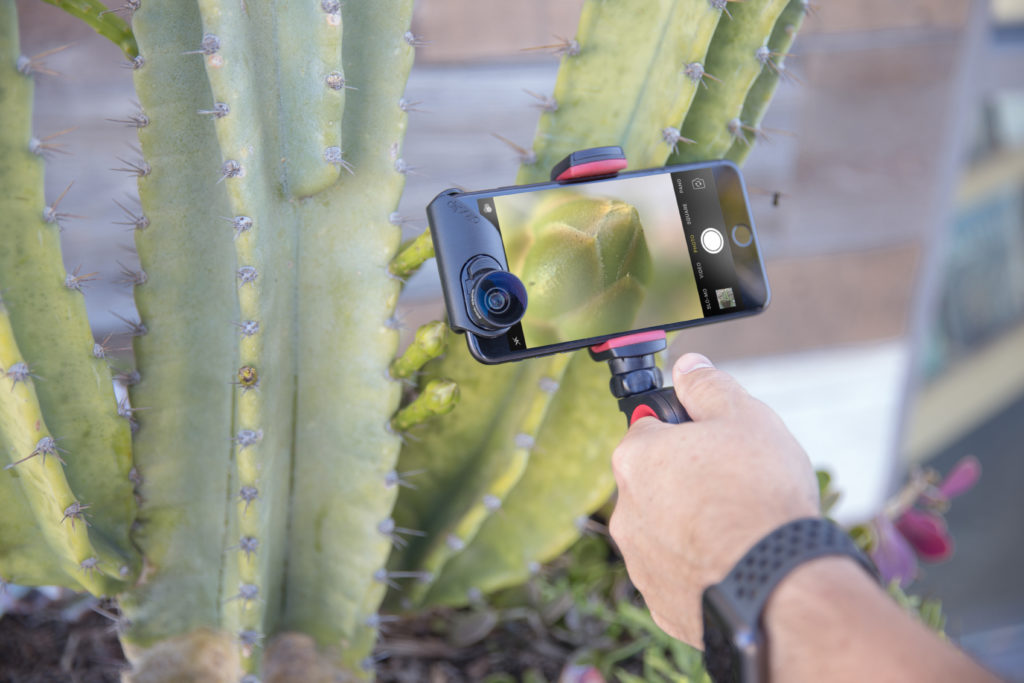 2. Fight camera shake: use a tripod
Speaking of holding the camera steady, you might want to take a look at a tripod. The thing is, not all tripods are born equal and it depends what you need:
The lightweight Benro Slim costs $99but is a full-size tripod that lets you capture better shots at eye level; while the ever-popular Joby GorrilaPod (currently $30 off at Amazon at $48) is a small solution with flexible legs that will literally try to grip objects around them for steady shots at awkward angles and in tight places.
Then there's the really small, easy to carry devices such as the $9.99 Fugetek, which is basically a small stand that will keep your iPhone steady on a wall or table while you capture shots.
3. Video photography? Grab a gimbal
If you use your iPhone to shoot video you'll want to take a look at a gimbal. These devices fit on your tripod and let you move your iPhone smoothly to follow the action.
This makes it much easier to capture high-quality video, enabling you to tilt and track video subjects. Zhiyun's Smooth 4 is one of the best out there, though it will cost you from $119.
This is packed with features, offers physical on-device keys to reduce your need to tap your iPhone's screen, and will even keep your smartphone charged. It also has its own object tracking ability!
4. This tool lets you take much better Pano shots
I love panoramic images, but I always suffer a little camera shake as I take them, which means I create my very own hills in those landscapes that just don't exist.
What's the solution? A little clockwork tripod that will rotate slowly through the panorama, generating much more accurate panoramas – you can even stand at the beginning and end of the shot for confusing selfie snaps. You can also use these things for better time lapse photography.
There's lots of solutions that do this, but for a price/size choice I like the MOVO Photo MTP2000, which only costs $15.95.
5. Are you using this brilliant Apple Watch feature?
Trust me, used with a tripod an Apple Watch is a brilliant solution if you want to take better images. Set your photograph up, walk away and then tap the Camera app on your Apple Watch to take the photograph – you'll even see the image you are taking on your watch screen.
Of course, $400 is a lot of money to spend on what is basically a remote shutter release, so the other option is to plug your Apple earbuds into your phone, set the image up in your Camera app and take the image by pressing the up or down volume button on your earbud cable.
6. Out on location? Get a power brick
Put simply, if you are capturing video or taking lots of images in some remote location you're going to run out of power, eventually. Solution? Just get yourself an external battery charger, such as the Anker PowerCore 5000 ($21.99) or a mophie PowerStation Plus($99.95). There are so many more to choose from.
7. A spotlight in your pocket for better portrait shots
You may need to shine a little light on the subject of your photograph in order to take a better image. The LumiMuse 8 is a small LED light box you can fit in your pocket that features an integrated rechargeable battery and three different color lenses you can use to adjust color temperature. It's very useful for night time photography, but at $79.95, you may find it cheaper to use your old smartphone as a light.
[amazon_link asins='160895711X' template='ProductCarousel' store='9to5ma-20′ marketplace='US' link_id='262f317f-2ba3-463f-b214-71c9e7c939b3′]
8. What do you get for people who photo everything? Storage
Your camera takes pictures and video and these very quickly fill up your iPhone storage. Solution? Get an external wireless storage device, such as the SanDisk Connect wireless stick drive, which looks a little weird but holds up to 256GB – and will automatically back up your camera roll so you can delete images as you need to do so. (Around $60).
9. Something to carry all this equipment in
Now you've got all this kit you'll need a bag to tote it around in. You're looking for plenty of pockets, water and impact resistance, and an anti-theft system won't hurt at all. The thing is, you may also want an iPad or Mac slot in that bag so you can edit images and video on the move – and now you're toting all those electronics, it makes sense to pick a pack with an external better built-in. There are lots of options that promise this, ranging from $30to $60and beyond. Tastes differ – I like electronics bags that don't attract attention, while others like sacks that reek of style, so look around.
10. Better photos through software
Take a look at Pixelmator for iOS and explore the various Photos plug-ins you can pack inside your iPhone for on the fly editing. There are loads of apps that will improve the images you capture – solutions like Hipstamatic, ProCamera 8, Camera+ 2 or VSCO. Take a look through the photography section on the App Store.
Explore our tips collection for how to take better shots.
Please follow me on Twitter, or join me in the AppleHolic's bar & grill and Apple Discussions groups on MeWe.
Dear reader, this is just to let you know that as an Amazon Associate I earn from qualifying purchases.