Why Apple's Final Cut ProRes RAW upgrade matters to you
Apple introduced an all-new video format with the Final Cut Pro 10.4.1 update, called ProRes RAW. What is it and why should it matter to you?
What is ProRes RAW?
RAW video has been around for a while, but only on ultra-high end solutions such as those from RED Cinema, Blackmagic Design and other top of the market equipment suppliers.
Apple says its new ProRes RAW video recording codec, "Combines the visual and workflow benefits of RAW video with the performance of ProRes."
It's a significant enhancement on the ProRes format Apple introduced back in 2007. ProRes RAW is available at two compression levels: Apple ProRes RAW and Apple ProRes RAW HQ.
ProRes RAW lets editors import, edit and grade high quality RAW quality video taken from the camera sensor, they can also play full-quality 4K ProRes RAW files on MacBook Pro and iMacs in real time – no rendering required.
The format preserves the deepest black to the brightest white and every color imaginable from your sensor. Not only this, but as these files are smaller than ProRes 4444 files you end up with much higher quality video assets that require less storage.
Why should it matter to you?
Image quality is the primary reason to care.
Editors can do so much more with RAW images, getting better images out of badly exposed shots, pushing dynamic resolution and more. Deep blacks, bright white and support for every color you can imagine, better films, better videos, and better cinematography all loom.
As Cinema 5D puts it: "ProRes is the standard, and being able to shift highlights and shadows without hindering workflow, is a welcome step forward."
ProRes RAW also supports accelerated reduced-resolution decoding modes that are used in the Final Cut Pro Better Performance playback setting for even greater performance and responsiveness. pic.twitter.com/Vxs0eKh7G6

— Ahmadallah Hemid (@Apple_Trainer) April 5, 2018
The format provides tangible improvements for editors seeking to adjust the look of videos, and also extends their capacity to tweak shadow and brightness details.
This will mean higher quality images and helps lend the foundation to future even higher resolution video consumption formats. The other part of enabling richer video resolution for creatives may also turn out to be seen in how they use ProRes RAW to develop AR and VR experiences – after all, the more realistic the virtual world, the more realistic those experiences will become.
Because they get to hang onto higher quality video assets, it's also quite a good thing for video producers, who can now feel a little more future-proofed as TV technology inevitably advances.
How does it work?
Apple has published a white paper that's packed with information about ProRes RAW, this provides a deep dive into how it works.
Among other things, it explains that while conventional video cameras demosaic camera image data to produce video in RGB that is provided to the Mac for editing, ProRes RAW lets the camera capture and provide the high-res captured data to the Mac. This information is then decoded, demosaiced and processed within Final Cut (and it all happens in real time, which means it's super-fast).
That provides editors with much more control over how the final output will look. It also empowers them to defer the final processing/demosaicing until post production.
Crucially, this means editors can even hang onto original assets, despatch them for post-production and processing, but then have then reprocessed again at a later point if they want to take advantage of any future raw processing or demosaicing algorithm improvements.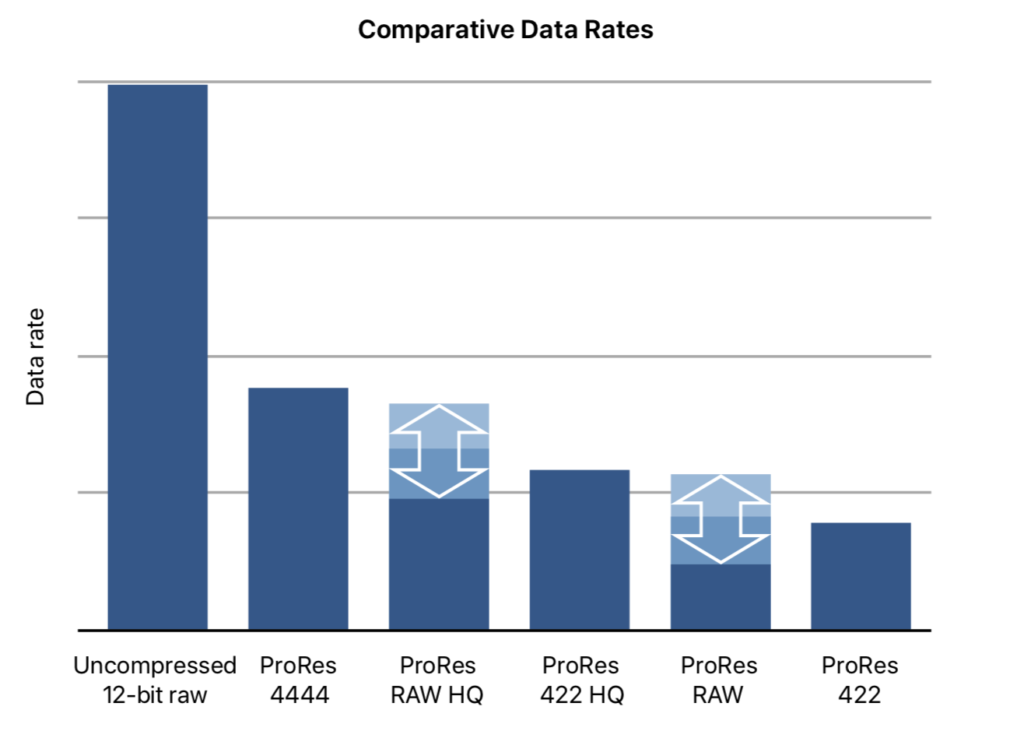 "Rendering times for ProRes RAW compared to other RAW recording formats from RED and Canon are dramatically faster," explains NewsShooter. It is 5.7x faster than rendering RED code 3:1 and 1.5x faster than Canon Cinema RAW Lite in the C200.
Not only this, but "ProRes RAW is designed to maintain constant quality and pristine image fidelity for all frames. As a result, images with greater detail or sensor noise are encoded at higher data rates and produce larger file sizes," Apple explains.
To develop a more complete overview take a look at the Apple white paper and also read these reports from Alex 4D, and Newshooter
Apple says:
"Apple ProRes RAW is a powerful new tool for recording and creating stunning images that preserves quality while maintaining performance. Much of the complexity of working with raw is minimized with smart, automatic functions that make it easy for novices and experts alike to achieve excellent results.

"Being able to use the raw image sensor data directly in Final Cut Pro during post-production gives you more control over the processing of the image, including demosaicing, linear-to-log conversions, and custom LUTs. Working with ProRes RAW in Final Cut Pro with the advanced color correction tools, you can create new looks and compelling images to make your material stand out like never before."
Hardware makers are releasing software updates to provide support for the format in their products.
The format should now be available via software updates for Atomos Sumo 19 and Shogun Inferno devices, DJI Inspire 2 drone and Zenmuse X7 Super 35mm systems.
Hardware makers say
"Simply connect to your camera and every sensor pixel is preserved, instantly viewable, beautifully displayed and ready to edit and grade in Final Cut Pro X," said Atomos.

"We are thrilled that the Zenmuse X7 has become the first aerial camera to support Apple's new ProRes RAW standard," said Paul Pan, Senior Product Manager at DJI. "Paired with the workflow and imaging improvements announced today, the Zenmuse X7 camera and Inspire 2 drone continue to be an unmatched platform for the most demanding projects in aerial cinematography."
Dear reader, this is just to let you know that as an Amazon Associate I earn from qualifying purchases.