Sandmarc Hybrid Filters will improve your photos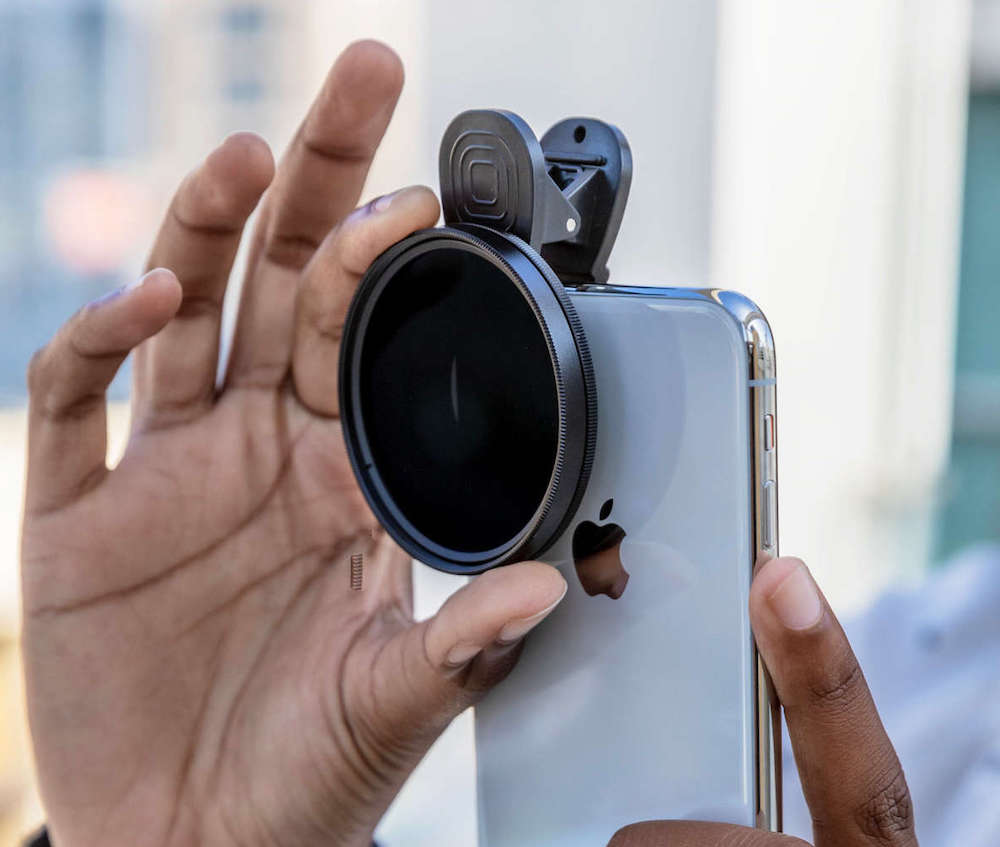 I've spent a little time working with Sandmarc's Hybrid Filter for iPhones. They try to optimize the images you take by reducing glare and over-exposure and giving you slightly more granular controls over light.
What does this mean?
Sandmarc says:
"The Hybrid filter combines the power of two commonly used filters. A polarizer filter reduces glares and reflections for clearer skies and more transparent bodies of water, while also offering a boost in color. A neutral density filter gives you more flexibility with shutter speeds, offering more control over exposure and light."
In essence, the filters add a new dimension to iPhone photography.
Smartphone cameras have fixed apertures and use shutter speed to take better images in bright light.
When it's bright, they use a really fast shutter speed, which can degrade the result, you might see water fall as droplets rather than a torrent, for example.
Add one of Sandmarc's filters and your device will take images as if it is a little darker, making for a slower shutter speed which in turn delivers better and more nuanced, natural images.
How might you use them?
Take what happens when you take a picture of the side of the ocean:
Whatever the weather, the ocean reflects light which can result in the occlusion of detail – but add a set of these filters and the light/exposure is reduced, enabling your iPhone's camera to get much better detail, including of things you might not have seen with your own eyes. (That shadow under water, for example).
That ability to see under water by mitigating the reflections in the water is actually a key talent of these systems. You can also use these things to add a little motion blur.
What's in the box?
In the box, you'll find an adjustable clip to hold the filters against your iPhone, and three filters with varying neutral density (ND) strengths: four, five, and six.
You'll also find a little case to pack them all inside.
The filters are made of multicoated anti-reflective glass and are encased in an  aluminum frame. In use you adjust the polarization levels by rotating the front piece.
Use them like this:
Select the filter.
Connect it to your phone camera with the clip-on mount.
Twist to get the result you need.
This is clever, because it means the filter offers both a neutral density (ND) filter (smooth video in bright light), and a circular polarizing (CPL) filter to improve contrast.
What kind of results can we expect?
I'm no expert on light in photography, but the people at Lightstalking are.
They have convinced me that if you want to create more natural seeming images on a bright day, these lenses will deliver – and in situations in which shutter speed makes a difference, such as when filming water torrents or floods, these will deliver more natural results.
I'll be in a snowy location soon, and will see what these filters can do when dealing with the intense nature of snow-reflected light. I may share some images if they are any good, but sadly even solutions like these don't create talent…
Must or miss:
I've always been uncomfortable with the clips that connect systems like this to iPhones, but I quite like Sandmarc's take: Not only does it seem robust enough to actually use, but the load/tension of the connection is nicely shared across the iPhone.
This makes me optimistic that when I or someone else accidentally bangs into me or my device, the connector won't shatter my screen.
That's not all, of course – while the images I have captured in the last few weeks have been far too amateur to share here, I'm incredibly impressed by how much better bodies of water look when photographed on a bright day – you see more than with the naked eye.
At $129, these systems aren't cheap, but should be in the toolbag of any semi-serious iPhone photographer. You can get the filters here at Sandmarc, or here from Amazon online, where we may get a affiliate fee.
Please follow me on Twitter, or join me in the AppleHolic's bar & grill and Apple Discussions groups on MeWe.
Dear reader, this is just to let you know that as an Amazon Associate I earn from qualifying purchases.