Its time to think about Apple's future file system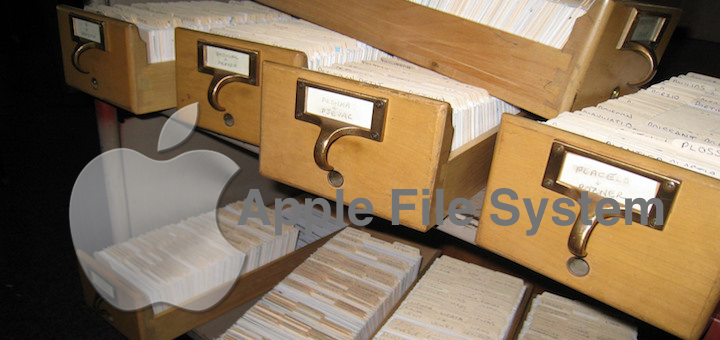 Not so very long ago, Apple transformed life for developers everywhere with Swift, now it looks as if it's about to transform life for every Apple user with Apple File System, and you need to spend time learning more about the new file system, as it's scheduled to become part of everything, from macOS, tvOS, iOS, watchOS and, conceivably in future, unannouncedproductrumorOS, in 2017.
Apple File System
Apple File System is a new, modern file system for iOS, macOS, tvOS, and watchOS. "It is optimized for Flash/SSD storage and features strong encryption, copy-on-write metadata, space sharing, cloning for files and directories, snapshots, fast directory sizing, atomic safe-save primitives, and improved file system fundamentals," Apple explains.
For Apple users I think the system should deliver power and memory efficiency, best in class stability and unparalleled data security.
One improvement might be the disappearance of app freeze, aka "the spinning beachball". That's because the system prioritize your immediate apps "over background activity", which I take to mean that one background app or process will not impact performance of your Mac. Watch this WWDC Developer video explaining more.
Why build it?
So why is Apple building this? HFS+ is "old; it's a mess; and, critically, it's missing a bunch of features that are really considered the basic cost of doing business for most operating systems," notes Adam Levanthal in the best and most extensive review of Apple's new file system I've come across. (I do urge you to at least glance at it).
"HFS+ and its predecessor HFS are more than 30 years old. These file systems were developed in an era of floppy disks and spinning hard drives, when file sizes were calculated in kilobytes or megabytes," Apple explains.
There's much more to learn about AFS, and one of the leading lights in the project has been deeply involved in Apple's OS efforts since work began on OS X, as an incredibly interesting Rixstep report explains.
What is the potential?
Apple plans to release Apple File System as a bootable file system in 2017, just in time for the tenth anniversary of the iPhone, 33-years since it launched the Mac (and 19-years since the introduction of current file system v.1, HFS+).
With this schedule in mind, developers and users across all Apple's operating systems need to spend time learning about the file system, and considering how things like Metal, Continuity or iCloud may benefit from the move to a unified file system across every Apple device, from Mac to iPad. Ars Technica can tell you more.
Developers: I'm interested in learning more about the new system, how it will impact your software and its significance for people who use Apple kit. I'm interested in the potential for the new file system to create new opportunities and what glimpses it may provide as to the future of the OS. If you have anything you can share please do so in comments below.
Dear reader, this is just to let you know that as an Amazon Associate I earn from qualifying purchases.