Everything we know (so far) about Apple's Find My network
Apple has opening up a new opportunity for manufacturers who want to put tracking devices in their products, the Find My Network. It has also introduced its own AirTags for this product category.
What is the Find My network?
There are hundreds of millions of recent Apple devices in use worldwide. Apple claims a billion of these form its Find My network. Apple has figured out how to use those devices and their Bluetooth connection to find objects.
"The Find My network is a crowdsourced network of hundreds of millions of Apple devices that can help users locate a missing iPhone, iPad, Mac, Apple Watch and soon, third-party Find My network-enabled accessories, using the Find My app," Apple explains.
How it works
The network relies on Apple devices already in use worldwide to find lost items like some vast crowdsourced tracking system.
This is based on Bluetooth and means that when an iPhone passes near a device that has been reported as lost, a signal is despatched that shares the new location of the lost device.
The owner of the device that is lost can then secure the new location information when they log into Find My.
As Apple explains it
Apple:
"Devices in the Find My network use Bluetooth wireless technology to detect missing devices or items nearby and report their approximate location back to the owner. The entire interaction is end-to-end encrypted, anonymous, and is extremely data and battery efficient."
Now others can join
Apple is opening its Find My Network technology up to third party makers later this year. They will be able to include the technology within their products.
The company has made a draft version of the specifications required for the scheme available which can be found here.
What products does Apple think will use this?
Apple says it sees the technology being made available to manufacturers of the following devices:
Standalone tracking accessories
Travel equipment (such as luggage or backpacks)
Clothing (such as jackets or shoes)
Personal items (such as wallets, handbags, or sunglasses)
Sports equipment (such as bikes, scooters or helmets)
Personal electronic devices (such as headphones, cameras, or portable speakers)
Medical equipment (such as wheelchairs or inhalers)
And, as ever, a catch-all category called "Other".
Once the technology is finalized developers will be required to join Apple's MFi Program to implement it in their products.
Wasn't Apple going to introduce its own tracking device? It did
AirTags (Apple's own tracking device based on the Find My system) have been speculated at since WWDC 2019, and were eventually introduced two years later in April 2021.
"We're excited to bring this incredible new capability to iPhone users with the introduction of AirTag, leveraging the vast Find My network, to help them keep track of and find the important items in their lives," said Kaiann Drance, Apple's vice president of Worldwide iPhone Product Marketing at the time.
"With its design, unparalleled finding experience, and built-in privacy and security features, AirTag will provide customers with another way to leverage the power of the Apple ecosystem and enhance the versatility of iPhone."
It's possible Apple has decided to make the technology available as a standard to third parties as others in the space, principally Tile, had complained at being muscled out of the market. There's no word yet if Tile will support Apple's network.
There are hundreds of tracking devices available today. These cost anything from tens to hundreds of dollars and in most cases require you sign-up to a network provider for SIM card-based network access. That's the difference the FindMy Network brings.
What are AirTags?
Each IP67 water- and dust-resistant AirTag is small and lightweight with precision-etched polished stainless steel. They carry a built-in speaker which plays sounds to help locate AirTag.
AirTags are designed to be as easy to setup as AirPods — just bring AirTag close to iPhone and it will connect. Users can assign AirTag to an item and name it with a default like "Keys" or "Jacket," or provide a custom name of their choosing.
How AirTags work
Once AirTag is set up, it will appear in the new Items tab in the Find My app, where users can view the item's current or last known location on a map. If a user misplaces their item and it is within Bluetooth range, they can use the Find My app to play a sound from the AirTag to help locate it. Users can also ask Siri to find their item, and AirTag will play a sound if it is nearby.
Each AirTag is equipped with the Apple-designed U1 chip using Ultra Wideband technology, enabling Precision Finding for iPhone 11 and iPhone 12 users.
This advanced technology can more accurately determine the distance and direction to a lost AirTag when it is in range. As a user moves, Precision Finding fuses input from the camera, ARKit, accelerometer, and gyroscope, and then will guide them to AirTag using a combination of sound, haptics, and visual feedback.
If AirTag is separated from its owner and out of Bluetooth range, the Find My network can help track it down. The Find My network is approaching a billion Apple devices and can detect Bluetooth signals from a lost AirTag and relay the location back to its owner, all in the background, anonymously and privately.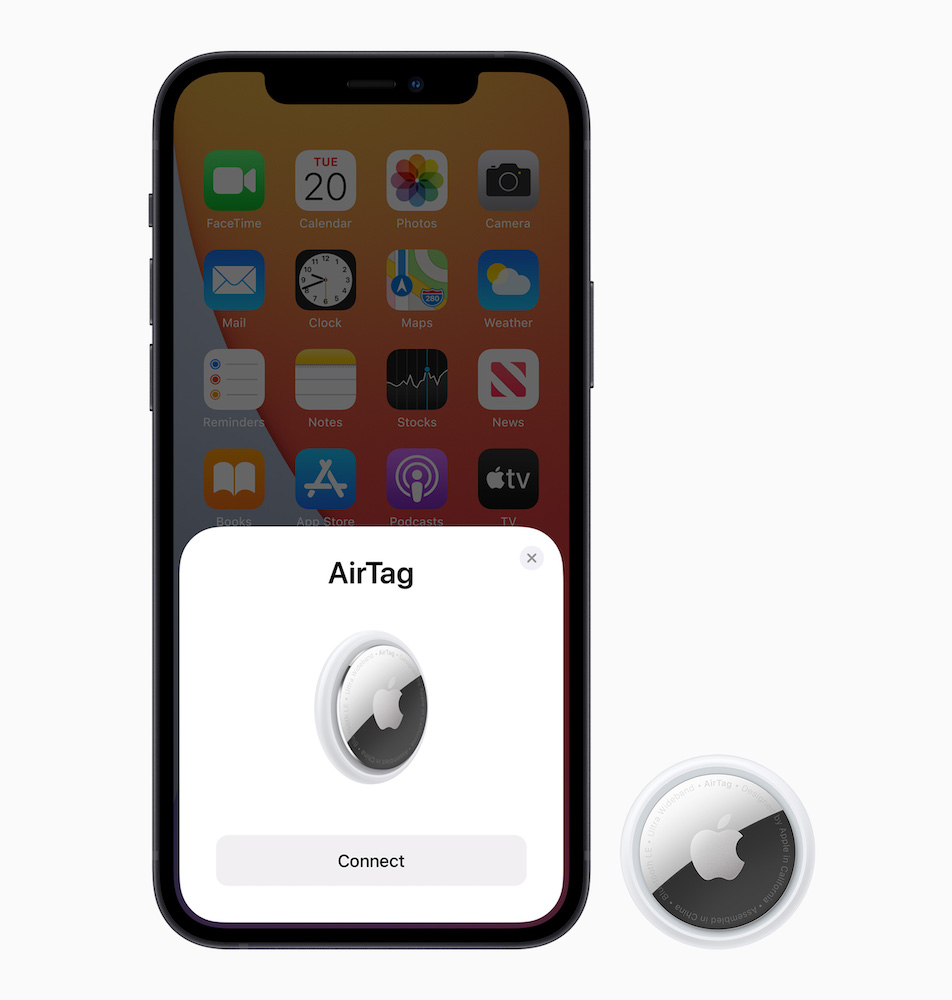 What if you find a device with an AirTag?
If you find an AirTag, or a device or third party accessory protected by one, just tap it using your iPhone or any NFC-capable device and be taken to a website that will display a contact phone number for the owner, if they have provided one.
When will the final spec be available?
The final specification for third party manufacturers is available now. You can find a little more information here.
Please follow me on Twitter, or join me in the AppleHolic's bar & grill and Apple Discussions groups on MeWe.
Dear reader, this is just to let you know that as an Amazon Associate I earn from qualifying purchases.