Bling your Mac with Apple's 'Secret' Desktop Pictures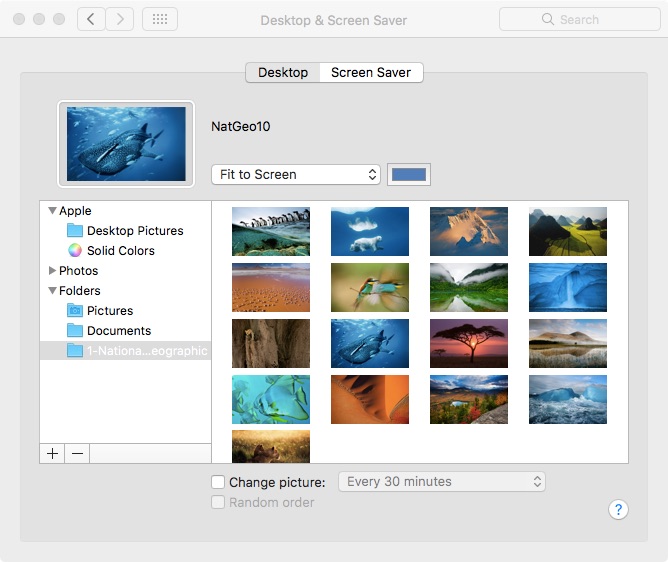 Had you forgotten about Apple's semi-secret stash of beautiful Desktop pictures? I had, until a chance glance some of my older articles reminded me of these beautiful National Geographic (and other) images. This super-hidden collection may seem familiar if you've changed your Screensaver recently, but if you follow these tips you will also be able to use them to  jazz up your Desktop.
Here's how to grab them
Tap Command and your Space bar and look for the Default Collections folder in the search bar that appears.
The folder should open up: you'll see the images include National Geographic, Aerial, Cosmos and Nature patterns shots.
Now you have a choice: Look through each folder. If you find an image you'd like to use as a Desktop Picture, just Control-Click the image in the folder and then select Set Desktop Picture in the contextual menu that appears.
Alternatively you can import an image, a folder, or all these folders into your "official" Desktop & Screen Saver collection, which you should open in Settings.
Now it is open, tap Desktop and then tap the + button underneath the left hand pane.
You'll need to navigate to the Default Collections folder. These easiest way to do this from within this dialog is to use the search field top right to search for it. When the folder appears in the right hand window open it and select the image folder you like.
Tap Choose and these images will be added to your available collection of images in Desktop & Screen Saver
Repeat this step for as many of the four collections as you want to use. Just tap an image inside these Settings to make it your new wallpaper.
And that's how to get a whole bunch of nice but new Desktop pictures!
Dear reader, this is just to let you know that as an Amazon Associate I earn from qualifying purchases.