Apple calls Accessibility a Human Right, Everyone Deserves a Chance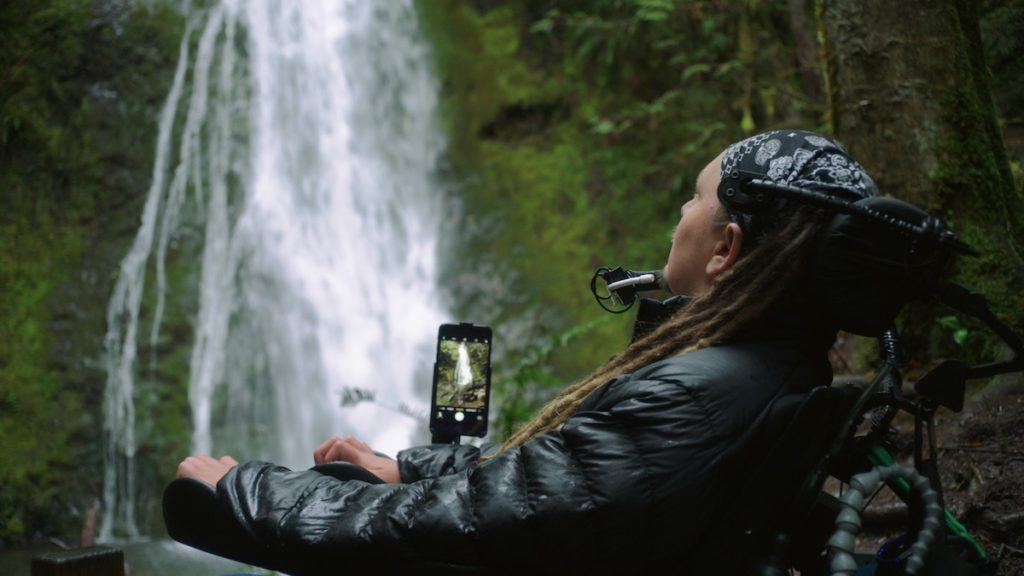 Today is Global Accessibility Awareness Day (#GAAD), and Apple is determined to support it.
Why wouldn't it be?
After all, since even before the migration to OS X, Apple has put accessibility solutions inside all its systems. While Microsoft still charged customers for accessibility solutions, Apple baked them inside the OS for free. I've been writing about this for years.
Way back in 2008 I noted that the American Foundation for the Blind (AFB) applauded the company's commitment to making products accessible. And even its recent Wheelchair Activity app underlines this commitment.
In 2010, accessibility advocate, Austin Serphin, wrote:
"For years, the blind have gotten nothing from corporations. Accessibility means as much as its market share, in other words not much. Big companies usually do not have an incentive to care about a very small base of users, or so they think. In truth, the blind represent a tightly knit community who tend to follow products loyally and passionately. If something works, word travels quickly, and everyone adopts the thing in question. If something doesn't work, word travels even more quickly, dooming the product to failure. Apple's devices have withstood the test."
In 2014, Apple's Tim Cook said, Apple engineers "go to extraordinary lengths to make our products accessible to people with various disabilities from blindness and deafness to various muscular disorders."
Even then, Apple's contribution to assistive tech meant, "Apple has done more for accessibility than any other company to date," according to then NFB President, Mark A Riccobono.
Apple has never wavered from this position.
It won't.
Apple CEO, Tim Cook, sat down for a series of YouTube interviews with disability advocates, telling them:
"Apple is founded on giving people power to create things, to do things they couldn't do without those tools. We've always viewed accessibility as a human right, and just like human rights are for everyone, we want our products to be accessible to everyone.
"It's a basic core value of Apple. We don't make products for a particular group of people; we make products for everybody. We feel very strongly that everyone deserves an equal opportunity and equal access. We don't look at this thing for a return on investment. I've been asked that before and the answer is no. We don't care about that."
Thanks @JamesRath @PintSzDiva @RikkiPoynter for visiting Apple for #GAAD! Great conversations about the importance of accessibility. pic.twitter.com/APg8J3LRvY

— Tim Cook (@tim_cook) May 18, 2017
Apple's is a commitment the orange man currently in the white house does not seem to understand. He should. Not every disability is physical, after all. Diminished responsibility can sometimes be a defense.
It's no lie
I've been writing about Apple for decades and the company's commitment to accessiblity has always been clear. Competitors see this as an afterthought, but with its focus on the user interface, Apple has always understood the need to create approachable, accessible solutions for a highly varied world.
We are human beings, not androids, and any kind of one-size-fits-all culture is not only a disservice to our unique identities, but a disservice to the world itself.
Apple has also published a series of videos, which are also being made available through YouTube. The films show the impact its accessible technologies have on people and I've pasted them below.
The company is also making some other attempts to underscore its commitment to accessibility.
A new range of accessibility sessions are being made available within the company's all new Today at Apple in-store special events.
The company has updated its Accessibility apps collection, highlighting iOS apps and developers offering compelling solutions to help users with all kinds of physical challenges, from vision to hearing, speech, motor skills and more.
The videos tell a range of stories as detailed below:
(I realise some of these links aren't working correctly — I'll sort it out soon, promise).
Carlos Vasquez
Carlos is the lead singer, drummer, and PR manager for the metal band Distartica. He lost his eyesight to Glaucoma when he was a child in Guatemala. He currently resides in Houston, Texas, where he is also a pro competitive gamer. He uses VoiceOver with Screen Curtain on his iPhone to capture band photos, hail a ride to practice, and spread the word about Distartica through ReverbNation. Distartica's new album, In Flames We Rise, is available on Apple Music.
Ian Mackay
Ian is an outdoor and birding enthusiast from Port Angeles, Washington. In 2008, he was in a bicycling accident and became paralyzed from the neck down. Today, Ian continues to explore his passion for cycling through the use of his power chair. He is set to travel 3,000 miles on the Olympic Discovery Trail by the end of this year. With Siri on iPhone, he can play a bird call or FaceTime a friend, and with Switch Control he is able to capture photos along the way.
Meera Phillips
Meera is a 15-year old with a passion for soccer and strong desire to speak her mind. She was adopted at the age of five from New Delhi, India, and now lives with her two moms and little brother in Atlanta, Georgia. Meera is unable to fully utilize her natural voice as a result of Schizencephaly, which impacts motor control and speech. She uses TouchChat on her iPad to talk to her friends and family, order food, and even tell the occasional joke.
Todd Stabelfeldt
At the age of eight, Todd Stabelfeldt became a C4 quadriplegic after an accidental gunshot wound. In spite of this tragic event, Todd's story has been one of empowerment and employment. He's a college graduate/software engineer, successful businessman and entrepreneur. Todd lives in the Seattle area with his wife, step-son and two dogs, where he runs his business from the home he built, which accommodates his disability. Despite being quadriplegic with no movement below his shoulders, he runs his business from his iPhone using built-in Switch Control features, uses HomeKit accessories and to control his lights and doors using Siri, and the Home app which he says brings "a huge amount of independence." He believes technology is key to improving the lives of people with physical disabilities and devotes his time to helping others through the TSF foundation.

Andrea Dalzell
Andrea is a nursing student and former Ms Wheelchair New York whose mission is to be a strong role model for those in her community. Her physical mobility has always been limited due to Spina Bifida, but it has never slowed her down. She's committed to living a healthy lifestyle and uses Wheelchair Mode on Apple Watch to monitor her heart rate, track her workouts and share her victories with friends.
Patrick Lafayette
Patrick is a producer and radio DJ in New York whose life revolves around music and his family. At the age of 16, he experienced significant retina damage as a result of high diving. Though his eyes were unable to be repaired, Patrick continued to explore his passions and embrace new technologies. He uses VoiceOver on his MacBook Pro to produce music in Logic Pro X, and uses Siri, whom he refers to as "the little lady," for almost everything. Patrick hosts a weekday radio broadcast on Chrismix Radio.
Shane Rakowski
Shane is the band director at Queen's Lake Middle School in Williamsburg, Virginia. She fell in love with music when she learned to play the piano as an eight-year old. Years later, while conducting her band class, she noticed she was unable to hear the low notes on the marimba being played by one of her students, leading to a diagnosis of low frequency hearing loss. She now wears a pair of Made for iPhone hearing aids which allow her to easily adjust settings right on her iPhone or iPad.
Dear reader, this is just to let you know that as an Amazon Associate I earn from qualifying purchases.