10% of U.S. Apple customers own a HomePod, survey shows
From an almost invisible position last year it appears that just under 10 percent of Apple's U.S. customers now own a HomePod, new data from Consumer Intelligence Research Partners (CIRP) suggests.
Apple's accessories business is growing
Not only do around 10% of U.S. customers now own a HomePod, but 25% of them own an Apple TV, one-in-five own an Apple Watch and there's a good chunk of iPhone owners walking around wearing AirPods.
"Apple TV is the most popular of the gadgets among the Other Products, with about one-quarter of current customers owning one," said Mike Levin, CIRP partner and co-founder.

"Apple TV has been around for many years, so we're not surprised that it has achieved this penetration."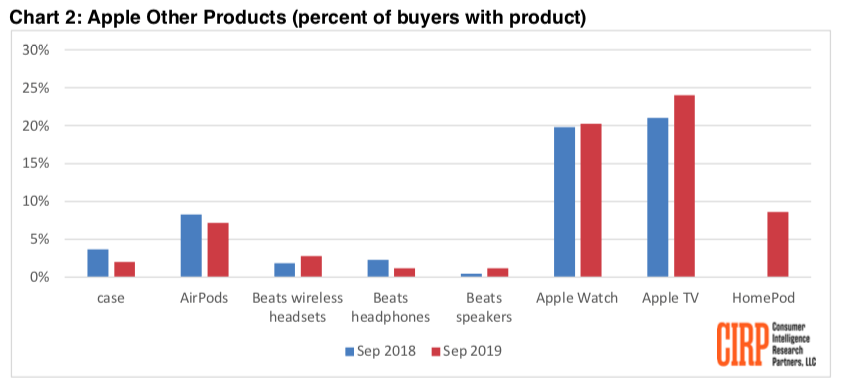 CIRP does state that there are more Apple owners using smart speakers from other manufacturers, but it fails to provide any data to back this claim up.
It is worth noting that the data CIRP actually has provided shows a massive spike in HomePod use. Perhaps Apple's privacy message (and prompt action re: Siri 'grading') is getting through?
iCounternotions
CIRP also made a relatively sketchy statement around iPhone sales, saying Apple added the, "Fewest number of iPhones to the US installed base in a quarter in six years".
Somehow this doesn't ring true in comparison to most market reports.
It is worth nothing that the data is based on interviews with a relatively small sample group of around 500 Apple customers, but it strongly suggests Apple's strategic move to provide customers with attached products and services is working well.
Please follow me on Twitter, or join me in the AppleHolic's bar & grill and Apple Discussions groups on MeWe.
Dear reader, this is just to let you know that as an Amazon Associate I earn from qualifying purchases.