Walker Sands explains how we use smart speakers and HomePods
Walker Sands in its recent Future of Retail report provided loads of insightful data that helps illustrate how we use smart speaker systems like HomePods, Sonos and Amazon in our homes. They make interesting reading.
Siri in the living room
Among other things the data shows that when consumers have smart speaker systems they mainly make use of them in the living room (57 percent of us leave them there).
Other popular locations include the kitchen (33 percent) and main bedroom (27 percent). Other bedrooms (14%), bathroom (14%), games room (11%) and the eponymous "other" (3%) lagged far behind such use.
The report confirms the once-bitten approach to these technologies. It seems that once people invest in one system they can quite quickly add additional systems to their kit.
"Of those who own a voice- controlled device, nearly two in five (39 percent) report owning at least two voice- controlled devices, and seven percent report owning four or more devices," the report observes.
How often are we using our HomePods?
There's a big chunk of insightful information into how we use these things.
It looks like once you get over the purchase you'll use them a lot. "64 percent of those who own a voice-controlled device use it at least once a week and nearly one in five (18 percent) use their voice-controlled device at least three times a day," Walker Sands says.
"It's clear that just shortly after their launch, consumers find voice-controlled devices valuable."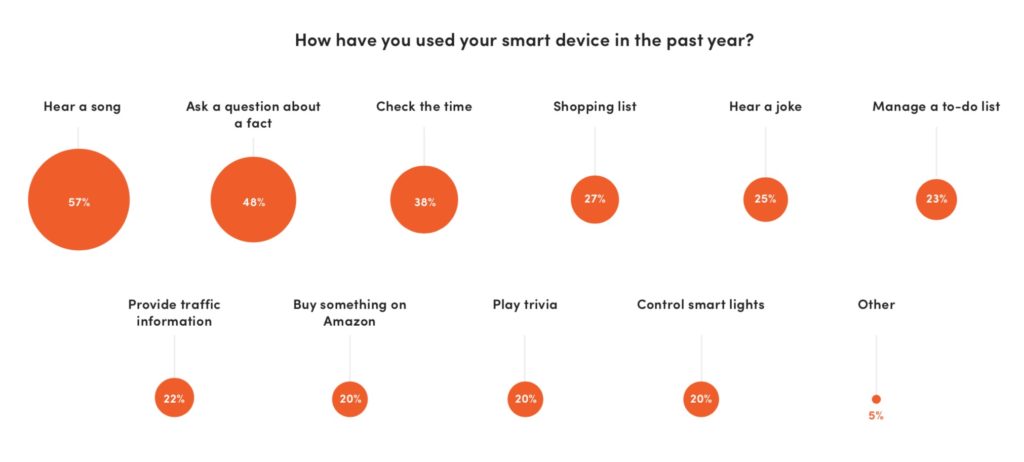 How do we use these things?
Well, it looks like Apple's focus on music hits the sweetest spot for this, with 57 percent using these things to listen to music, 48 percent to ask for facts, and 38 percent to check the time. Shopping lists (27%), Jokes (25%), To-Do lists (23%) and traffic info (22 percent) are also popular. Just 20 percent go shopping on Amazon, though over 50 percent of consumers have used some form of voice control device to make a purchase online in the last year.
Smart homes – an uphill struggle
What's also interesting to note given that smart speakers must inevitably hit an early adopters market is that only 20 percent of owners have used their device to control smart lights in the last year. That doesn't seem a lot to me, and with smart lights being by far the most popular smart home segment, it suggests consumers remain reticent to embrace the smart home – potentially reflecting the lack of a robust security model among so many players in the space. It is possible the mass of people don't' have a big problem getting up to adjust their own thermostat, also.
Where next?
Interesting insights into how we want to use voice in future. "Consumers noted they would like to see more hands-free commands in the car (41 percent), on TVs (38 percent), with in-home appliances (24 percent) and in the shower (19 percent)," Walker Sands said. "Another 13 percent of consumers wanted more voice- controlled options for hands-free commands while on the toilet…"
One thing is for sure, interest in these things is increasing quite rapidly. More than a third (21 percent) of consumers reported they are "at least somewhat likely to purchase a voice- controlled device in the next year and more than half (36 percent) say they're at least somewhat likely to make a purchase via voice in the next year."
Dear reader, this is just to let you know that as an Amazon Associate I earn from qualifying purchases.