Is Elgato's Thunderbolt 3 Dock an Essential MacBook Pro Companion?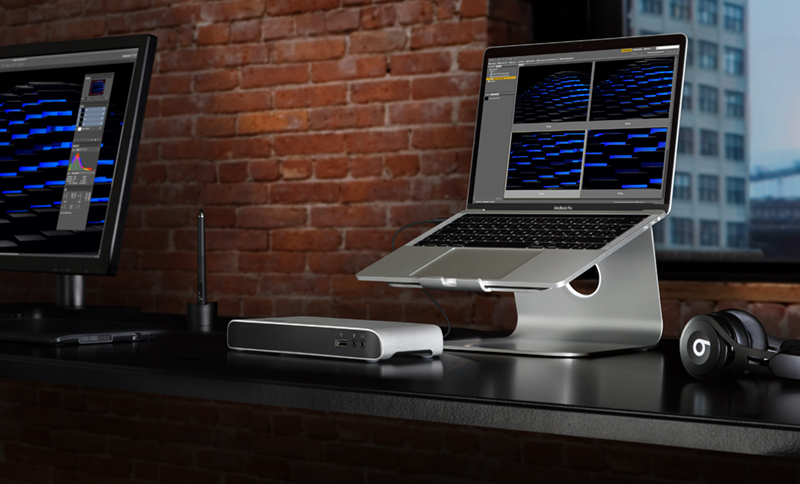 Available for sale from next month, Elgato's Thunderbolt 3 Dock provides all the interconnects any MacBook or MacBook Pro user needs, including support for legacy USB, Ethernet and more – and all through a single Thunderbolt 3 cable. The product will be available in the US and UK (£269) from early June.
Everything You Want, You Got it
The successor to Elgato's popular Thunderbolt 2 Dock (UK link, US link), the new edition adds a range of connections many Mac users might need. The idea is that with the dock and an external monitor, your MacBook or MacBook Pro becomes a desktop Mac as and when you want it to be.
The German product design company evidently listened to some of the criticisms of Apple's new Macs, as the Thunderbolt 3 Dock supports the following useful interconnects you just won't find on the base machine:
Dual 4K monitors (or one 5K monitor)
3x SuperSpeed USB devices (which can even recharge your iPhone)
Gigabit Ethernet,
Audio in and out,
Charging for the MacBook up to 85 W, all through a single Thunderbolt 3 cable.
Everything You Need
These are the tech specs for the product.
Ports
2x Thunderbolt™ 3 (USB-C) with support for:
– Thunderbolt (40 Gb/s)
– Computer Charging (up to 85 W)
– Device Power (up to 15 W)
– USB 3.1 Gen 2 (up to 10 Gb/s)
– DisplayPort (up to 4K)
1x DisplayPort with support for:
– DisplayPort 1.2
– HDMI 1.4b
1x RJ45 10/100/1000BASE-T Gigabit Ethernet
3x USB 3.0 (5 Gb/s, 1.5 A, USB Battery Charging 1.2 & UASP)
1x 3.5 mm Headphone Output (amplified analog stereo)
1x 3.5 mm Microphone Input (mono)
1x Power Input (DC 20 V, 8.5 A)
Dimensions & Weight
Dimensions: 20 x 8.9 x 2.9 cm / 7.9 x 3.2 x 1.1 in
Weight: 300 g / 10.5 oz
It ships from June 6 and includes a power supply and a 50cm Thunderbolt 3 cable
Is it Essential?
Apple faced a huge heap of criticism when it moved Macs over to USB-C. Some of it was warranted — why use an adaptor to recharge an iPhone? But much of it was less than constructive. However, if you are a Mac pro wanting to get the very best you can out of your existing peripheral devices (particularly in the video space), then you'll want one of these. I think this might include video and graphics pros, who should probably consider this product from this veteran and reputable hardware developer.
Dear reader, this is just to let you know that as an Amazon Associate I earn from qualifying purchases.