How Apple's iTunes Legal Agreement Was Turned Into A Comic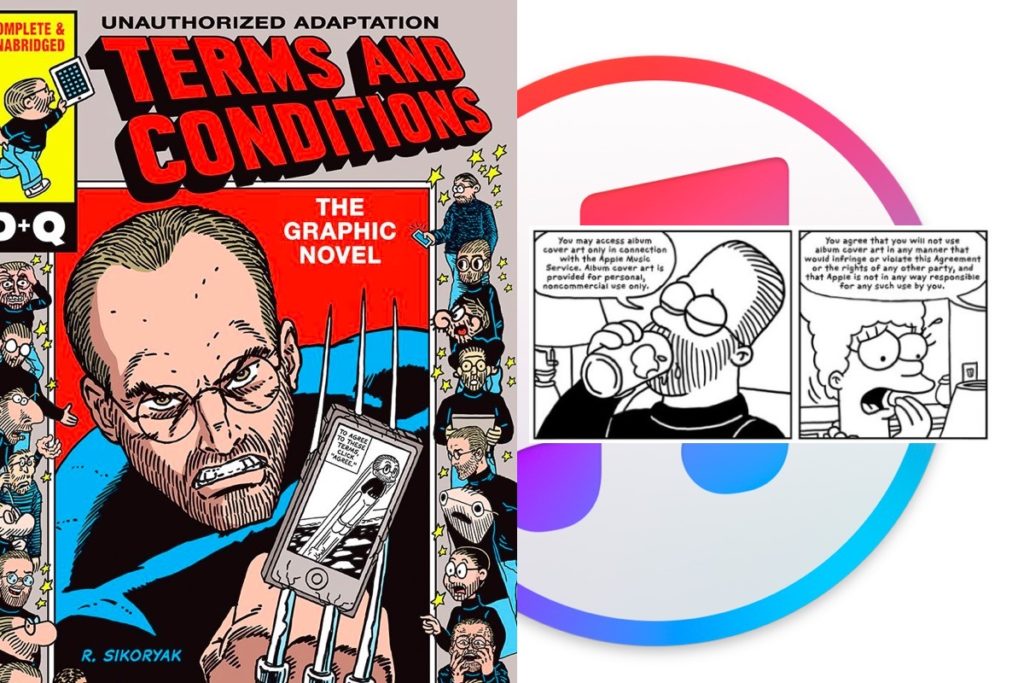 Standing at the intersection between science and the liberal arts means that sometimes you come across something that really captures your attention. That's certainly the experience on learning a talented comic artist has created a graphic novel capturing Apple's iTunes Terms & Conditions. It's a hefty, 96-page document that you may actually read, before signing and forgetting.
Legalese
Who reads these things? Not many of us. When people do get round to reading a T&C document there's usually a little astonishment as the significance of what's been agreed is understood.
Indeed, it seems to this commentator that the T&C agreements used by every company in the world have been specifically designed to be hard to read, opaque, and incomprehensible.
That's what classic cartoonist, satirist and illustrator R. Sikoryak seeks to change with this comic, called (oddly enough) Terms and Conditions. It puts Steve Jobs into the speaking part, reprising him as if he were a character in a huge range of comics, from The Simpsons to Garfield and beyond.
"The project came about because I wanted to do a long form comic—a real graphic novel," R. Sikoryak explains to The Creators Project. "I often adapt existing texts into comics, but I usually edit them down. In this case, I thought it would be funny to use all the text of a document that everyone thinks they ought to read, but never do. When I hit upon the idea of doing each page in a different style, I was very excited by the prospect."
Three years of work
This has been a labor of love – the illustrator began working on the idea in late 2014, however the length of the document has changed frequently since then, growing from 50- to 90+-pages as new clauses were introduced.
The comic will be available next month from Drawn And Quarterly.
You may also like the satirist's other comic, The Walking Donald, which casts the current US president as a slightly sentient malevolent entity,
Dear reader, this is just to let you know that as an Amazon Associate I earn from qualifying purchases.