HooToo: An affordable but brilliant travel companion for Apple users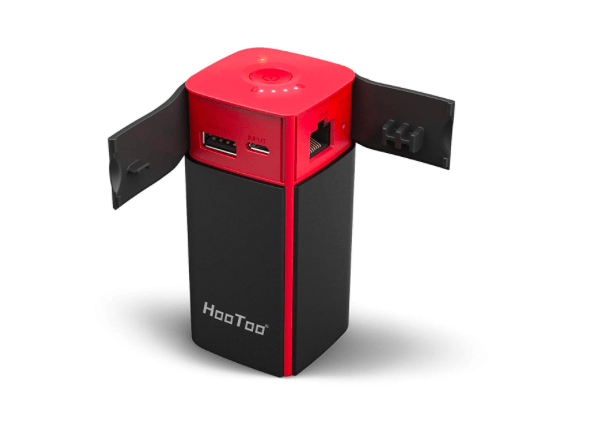 I've been monitoring third party Apple accessories for years as I'm always on the hunt for gadgets I think readers may be able to use. Today, I'm quite taken by this older but eminently affordable and super-useful system.
HooToo Wireless Travel Router
While it has been around since 2016, the HooToo Wireless Travel Router only costs $42.99 on Amazon, and delivers useful features I think many readers may sometimes need.
These features include:
A 10,400mAh battery that will recharge your iPhone three times.
A USB 3.0 reading slot – plug in a cheap piece of external storage and you can stash movies there to stream to your iPhone/iPad using an app and this device.
It's also a DNLA service, so multiple users can access the same shared movie library, for example. And stream it over the private Wi-Fi. There's an app for that.
A Wireless router: Create your own ad-hoc Wi-Fi network with this: Plug it into your hotel system, or just use it to extend an existing Wi-Fi connection. Some people claim to have used it to share in-flight Wi-Fi (Delta gogo).
Though it won't let you stream iTunes DRM files, nor will it work with a Mac-formatted drive.
The one more thing is that the big battery inside this little device means you can use it to run a self-powered Wi-Fi network for several hours – all you need to do is connect it to the Internet.
Why do I like it?
I think this is an excellent way to share your media libraries with friends and family when you travel. It is also a very neat way to stash your files, documents and other data in your very own private (and therefore highly secure) private cloud.
Even if those talents don't mean too much to you, I think the big battery and the capacity to create Wi-Fi networks when you are unfortunate enough to reach a hotel that still insists on Ethernet makes this a useful piece of kit to tote around.
[amazon_link asins='B00MWU1GGI' template='ProductCarousel' store='playlistclub-21′ marketplace='UK' link_id='739d0b33-d9f2-4df8-a0ad-7ed45da6069c']
There are other solutions that provide this, but for me the size of the battery and relative affordability are what makes this worth a look. Plus its interesting appearance, I suppose.
Many thanks to Coding Horror for pointing out this system exists.
Specifications
If you've made it this far you'll want to learn the full specs for the system. Here they are:
Capacity: 10,400mAh
File system: NTFS/FAT16/FAT32
Size: 1.65 in x 1.65 in x 3.74 in
Weight: 8.8 oz
Color: black + red
Output: 2A max
Input: 1.6A
Wi-Fi: 802.11b/g/n, 2.4GHz
Warning: I urge you to upgrade the firmware on the system following this guide.
Let me know how you get on.
Please follow me on Twitter, or join me in the AppleHolic's bar & grill and Apple Discussions groups on MeWe.
Dear reader, this is just to let you know that as an Amazon Associate I earn from qualifying purchases.