Here's the latest news in HomeKit accessories
An awful lot of new smart home solutions join the HomeKit ecosystem every month, and while Apple's all-new HomePod system has to be the biggest news, here's all the latest smart solutions to announce iOS support.
Get the Homecam app
Homecam (above) is an Apple TV and iOS app that lets you watch multiple HomeKit-connected camera video feeds simultaneously. You can flick into full screen mode, watch all the clips at once and more. You can also summon data from other HomeKit devices on your network to check things like air quality of if some dodgy intruder just switched the lights on in your home while you are struggling through yet another day at the salt mine. The app costs $4.99 and reviewers seem to like it.
Netgear's Arlo Baby Smart Cameras
Netgear has introduced HomeKit support for its Arlo Baby Camera range. To connect one of these cameras up to HomeKit all you need is the latest version of the company's app from the App Store. Once you do, you can monitor all the video feeds from all your cameras directly in the Home app. These cameras aren't confined to baby monitoring, of course, as they provide 1080p HD video, remote control, air quality sensors, night vision and motion detection, so they're also pretty useful as part of your intrusion alarm systems. Plus, you can disguise the cameras as cute objects. You also get free 7-day cloud storage of recordings. These cost $199.
Elgato Eve Room (second edition)
The all-new, upgraded Eve Room senses indoor air quality by measuring volatile organic compounds (VOC), temperature, and humidity. Its large E-Ink display sports a wide viewing angle so indoor conditions are visible at a glance from anywhere in the room. It doesn't require batteries, can be charged from any USB port and can deliver all the environmental information about your crib you may need, all in a beautifully designed package. It ships next month and you'll probably find it here.
Elgato Eve Button
New from the smart accessory manufacturer/developers at veteran Apple accessories maker, Elgato, Eve Button is a simple little gadget that's designed to control all your HomeKit devices. As such it's particularly useful if all the iPhones or other HomeKit control devices have left the house for the evening, as it means famiies can continue to use everything. Button lets you control up to three HomeKit solutions, or can be mapped to set up scenes, for example, secure the home, movie night, dinner time scenes. It's a neat little device that makes it easier to exist in shared HomeKit homes. It costs $49.95.
Fibaro wall plug
Fibaro's product is a neat HomeKit-controlled power plug that also features a crystal LED ring that changes color according to how much power is being used by the plugged device.It also includes a USB charging port. It integrates with its app, so you can monitor power consumption and switch devices off and on using HomeKit. $59.95.
iDevices Instant Switch
Similar to Elgato Eve Button, albeit much more limited, iDevices Instant Switch is a connected switch that sticks to the wall and will then control other solutions from the same company. It costs $34.95.
LifX Z light strip
The latest smart lighting accessory from LifX, the light strip consists of a strip of LED lights that can be stuck to any smooth surface. It's the sort of lighting system you may want to install in your kitchen, porch, or hallway, for example. You can then control color and brightness from your iOS device. The starter pack includes two one-meter long strips which can be combined. They are powered by mains electricity. You set them up and create scenes in the system's accompanying app, but can transact most of your controls using Home. A starter pack costs $89.95.
Sylvania Smart+ white bulb
The good thing about Sylvania's no-frills solution is that it's affordable enough to get used in the places around your home that don't really need flashy (and expensive) color-changing lights. Another neat advantage is that these bulbs communicate using the Bluetooth standard, which means they don't need a hub (unlike Philips Hue). It'll set you back $20.99. Sylvania has also introduced the Sylvania Smart + LED Light Strip, which also uses Bluetooth and lets you change the color of the lights as and when you want to using HomeKit and costs just $49.
Logitech Circle 2
Logitech recently introduced new features to its Circle 2 security cameras, making these available as a software update for the accompanying app. They include Notification Snapshots, (a snapshot notification of an event whenever motion is detected) and new Circle Save subscription plans. These are Logitech's subscription plans in exchange for which you get to store recordings for longer online in the company cloud. These cameras cost from $349.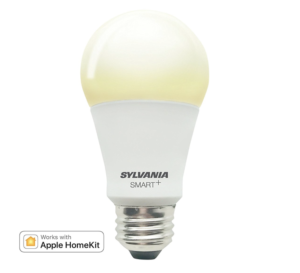 Philips Hue
Philips recently updated its Hue bridge, introducing support for Zigbee 3.0. That's pretty useful for some smart home owners, who may be using devices from different company's not all of which integrate with HomeKit.
At least it means your Hues will work with other things, and lets your HomeKit solution "influence" non-compatible Zigbee devices. Prices vary but a good basic pack costs around $189.
This is v.1 of a regular series. That means I may miss some announcements. Do you have new HomeKit accessories you'd like to see looked at or reported on here? Please let me know.
Dear reader, this is just to let you know that as an Amazon Associate I earn from qualifying purchases.