eCommerce vendors are anxious to reach Apple users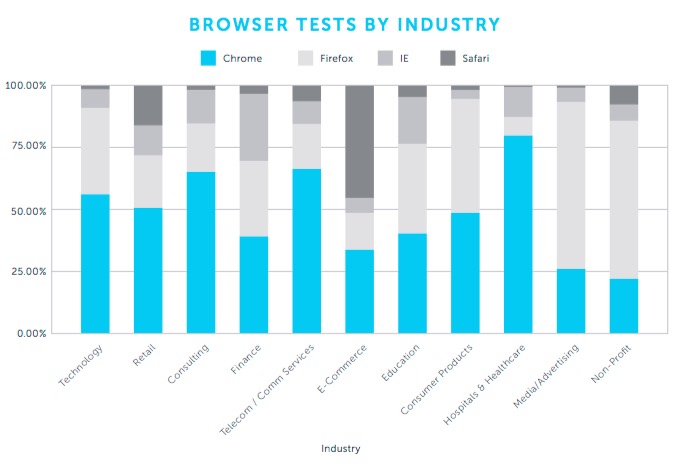 An interesting insight from last week's Sauce Labs report into software development testing reveals that when it comes to retail and ecommerce projects, Macs and Safari are far more heavily tested than you'll find in other categories.
In other words when anyone is building any kind of ecommerce app they will be testing this against Apple's platforms. They want to do this because they are prioritising Apple-using customers.
"Based off anonymous data from tests run on Sauce Labs over a 90 day period, the report compares trends in eleven industries. E-commerce is the only industry to test heavily against Macs (46 percent), compared to Windows (32 percent) and Linux (22 percent) – which dominate in all other industries," the report said.
Why?
Ken Drachnik, director product marketing of Sauce Labs tried to explain: "My assumption is that with the popularity of iPhones, iPads and Macs in general a lot of purchasing is done on Apple products," he said.
"Despite Android having 80% of market share in some countries, app makers still say they make twice as much money from iPhone users than they do Android users, with many Android users believed to simply use their handset as a 'dumb' phone, rather than take advantage of its capabilities," he observed.
One relatively recent report told us that Android customers are worth a quarter as much as one iPhone user when it comes to sales. That makes it inevitable the eCommerce providers are keen to target all Apple's platforms, including Macs.
This is an interesting insight in terms of consumer purchasing habits, in that it suggests online consumers on Apple's platforms are a sufficiently large market eCommerce and retail developers want to cater for them.However, it may in future become even more interesting, for example, in the health industry. You see, these figures seem to show a preference to test against Chrome in the health market — will this change in future years as Apple continues to ramp up its efforts in the sector? This seems possible.
Meanwhile this is yet another slice of demographic evidence to suggest the importance of Apple's technologies in the digital transformation of everything.
Dear reader, this is just to let you know that as an Amazon Associate I earn from qualifying purchases.