This ARKit app innovates business communications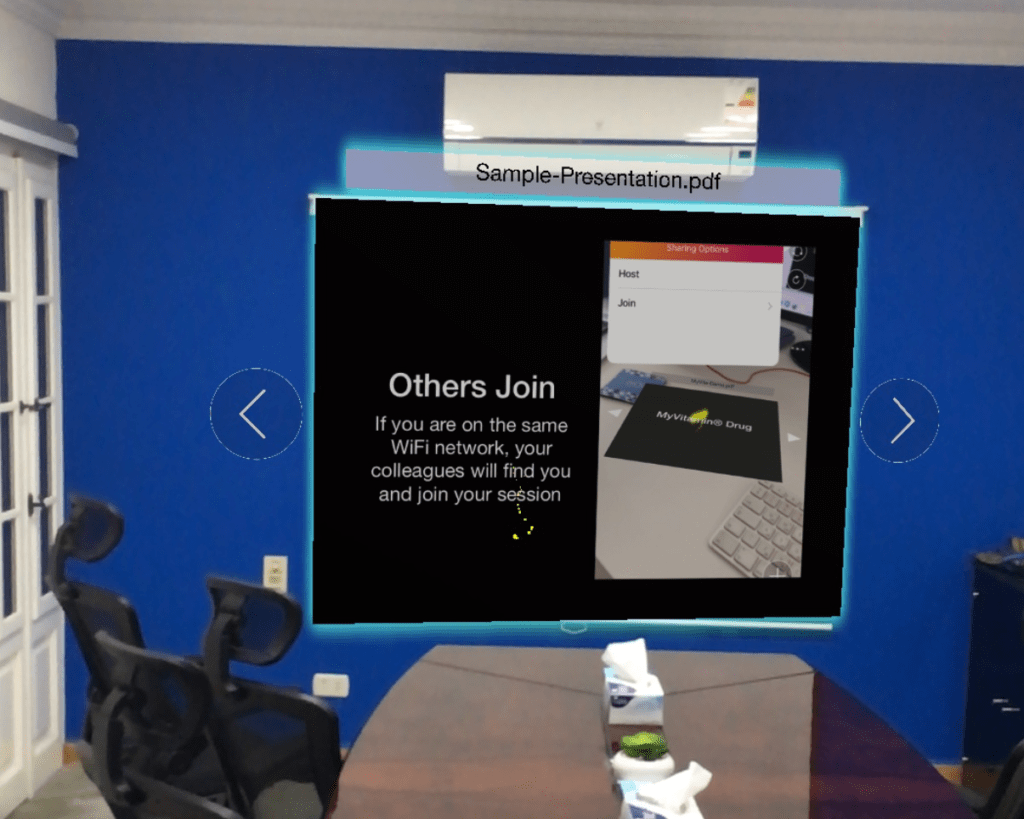 I think this new ARKit app may provide a glimpse of potential AR applications for collaboration, education and business technologies.
Introducing Showmented
Showmented lets you show presentations to others in virtual AR space, people witnessing the presentation can see it live on their iOS devices. The app is being developed by Graphmented and is available now.
Here's a short video that shows what the developers are trying to do with this product (switch the sound down though as its really annoying).
App highlights
It turns any wall into a whiteboard.
Viewers are also equipped with laser pointers so they can draw attention to elements of the display.
Remote users on the same Wi-Fi network can join the session.
You can share multiple presentations at the same time.
What problem does it solve?
I think this provides an alternative to screensharing, group video asset sharing systems and the like. I can imagine it being used to show ad hoc presentations within project groups, or seeing use in educational reports from kids.
While It doesn't quite replace existing technologies for any of these things, I feel it's an excellent example of future AR-driven evolutions in business communications, particularly when people need to share private ideas in as secure a way as possible – these presentations only need to exist in one place.
The developers are now working to introduce Android support taking advantage of an ARCore update they say lets you share AR content between both platforms.
"A special library of ARCore is provided for iOS allowing developers to share their ARKit environment with Android devices that use ARCore. This could be a game changer," they said.
[amazon_link asins='0071636080′ template='ProductCarousel' store='playlistclub-21′ marketplace='UK' link_id='4d174383-f26c-11e8-bee2-9fde0679da5a']
"At first, we were more interested in ARKit because of the quality of the framework and the big number of iOS devices supporting ARKit," said Osama AbdelKarim, Showmented Product Designer. "But when Sharing entered the game, things changed. We are now at the state were we want all users around someone to be able to share his content. So even if one out of ten has an Android device, we need to support him to make this feature reliable enough."
Here's the app page, it is free to use to access presentations, but otherwise costs $2.99 per month.
Dear reader, this is just to let you know that as an Amazon Associate I earn from qualifying purchases.